How do you buy in a 55+ community in Florida? Are there really tips for buying in a 55+ community in Florida? Is it any different than buying a house in a non-age-restricted community?
I have lived in two age-restricted neighborhoods here in Florida, and yes, there is a difference.
Living in a 55+ community is not for everyone. Unfortunately, I have helped sellers move when they discovered the neighborhood wasn't a good fit for them.
Not preparing yourself, knowing the right questions to ask, and what to look for could lead you to unhappiness. That can be an expensive mistake. Since most of us who are older than 55 understand that time is precious. Therefore, we would like to get this right the 1st time.
You Might Like the Article: Del Webb vs Cresswind
So, I came up with a list of the 7 Tips for Buying in a 55+ Community in Florida. This criteria is based on feedback from my clients who moved in & moved out! Some wish they would have thought about some things, while others made pleasant discoveries along the way.
---
⚖️Understanding the Rules of 55+ Florida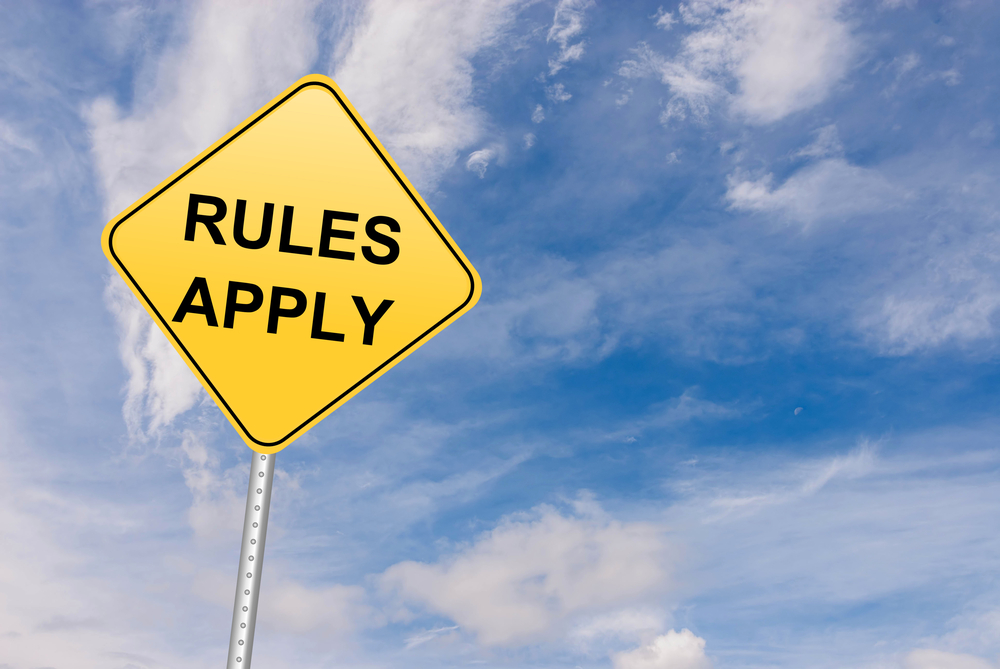 Retirement or age-restricted communities do come with a particular set of rules. Why? Some have to do with the federal requirements of the Department of Housing and Urban Development (HUD) regarding age. Actual 55+ communities must track and document the age of the residents and file that information with HUD to maintain the 55+ status.
Because of the age designation, communities must determine the minimum age of a permanent resident. In Florida, many communities adopted the 80/20 rule. This means that 80% of the owners and residents must be at least 55 to own and live there.
The remaining 20% can be younger than 55 years old. Each neighborhood must determine a minimum age. Most are choosing to stipulate it as 45 years old.
Although every owner is provided with the rules and regulations before buying, many are still surprised that their neighbor can be younger than 55.
---
🧑🏽‍💻Digital Nomads and 55+ Neighborhoods
Why are younger buyers moving to 55+ communities? With the digital age, more people are working from home. As a result, many head down to Florida to enjoy the weather and the generous tax laws. In the past few years, I have represented several buyers who have the flexibility from working from home and wanted to live in a 55+ neighborhood.
One of the primary reasons most seek to live in a 55+ community is the peace and quiet they offer. In addition, most newer neighborhoods have resort-style amenities for a reasonable HOA fee. These benefits not only attract the retired but people who are near retirement.
Because of the 80/20 rule in Florida this is making it easier for younger people to live in age-restricted neighborhoods.
👶🏼Visiting Guests and Grandchildren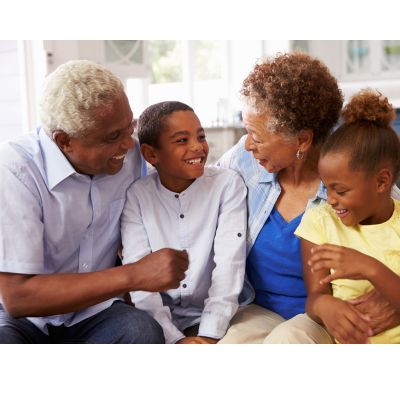 In addition to the age restrictions, most communities have additional rules for the length of stay as well as the use of the facilities for visiting guests and minor-aged children.
Prohibiting your grandchildren from using the pool at certain times is common in some communities.
Moreover, your guests may not be able to attend events with you, use the gym or outdoor tennis and pickleball courts due to liability. If this is important to you, find these rules out before buying your home.
You should be given a set of rules and regulations by your real estate agent or builder's salesperson with a timeframe to accept said documents.
---
📍Tips for Choosing Location 55+ Community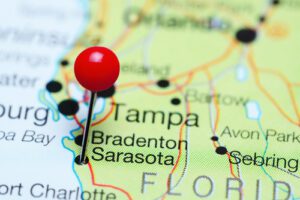 What services do you need nearby? How far will you drive to go to dinner or see a doctor? Are you in a flood zone or a hurricane evacuation route?
You Might Like the Article: Living in Sarasota vs Naples-Which is Best
Proximity to service providers becomes more important as we age. Limiting distance to health care providers and entertainment, for instance, will enable you to enjoy your retirement without sacrificing your quality of life.
Even though you are thinking about living in a 55+ community that has amenities and entertainment, it doesn't mean you won't want to enjoy the outside community.
Many of my neighbors volunteer their time and give back to the community they now live in.
Here are a few suggestions to research regarding location:
How far are the hospitals and specialists from the 55+ neighborhood I am considering?
Regarding healthcare, what are the quality of hospitals nearby, and how many?
How Close are Airports?
Where are the grocery stores/convenience services?
Is there entertainment outside of the community, if so, how far?
Does Noise Impact the Location? (Road Noise, Airplanes, Trains, etc.)
Will adverse weather impact the location I am looking at?
Is Homeowner's Insurance High?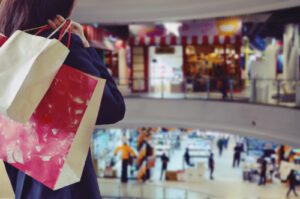 For instance, living in the Sarasota/Lakewood Ranch area allows me to enjoy the proximity of Lakewood Ranch's hospital, nearby doctors, shopping, and dining. However, should I ever need a specialist, Sarasota is less than a 15-minute drive, and Tampa is less than 1 hour.
Also, in the Sarasota/Lakewood Ranch area, I have access to 4 airports. Sarasota International Airport is a short drive and does have international destinations. Tampa International is approximately 45 minutes away and so is ST-Pete/Clearwater.
The 4th airport many forget about is Punta Gorda. Punta Gorda is approximately 35 minutes away and offers Midwest and East Coast flights.
---
🏡HOA Fees 55+ Community in Florida
HOA fees in a 55+ community in Florida can be higher than what out-of-state buyers are currently paying. Why? Not only do the HOA fees include the maintenance of the facilities, staff salaries, but usually include lawn and landscaping for your residence.
Since Florida is tropical, vegetation grows quickly, especially during the summer months. Maintaining the grounds of a neighborhood can be a full-time job.
⬆️Will HOA fees in a 55+ Go Up?
Yes. Expect them to go up as the cost of living increases. In addition, you may be seeing assessments if there are large expenditures expected such as upgrades to the clubhouse or pool.
Could you ask to see the budget before you buy? Yes! Part of your due diligence during the purchase process is asking for the financials. The budget will show you how financially solvent the HOA is and if funds are set aside for major improvements.
Imagine buying a home and, just a few months later, getting hit with an assessment. Keep in mind that if the community you are looking at has a restaurant, reviewing that balance sheet is a very good idea.
Making a profit in a small community restaurant can be challenging.
---
😳Will There Be Additional Fees?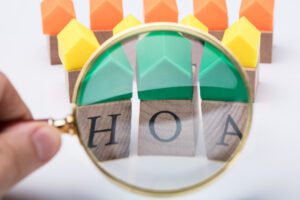 Are there hidden fees in a 55+ community in Florida? Disclosing mandatory fees is a requirement in most states. In addition, if you are buying a new home, the builder is providing a breakdown of all fees you will be paying inside your contract.
However, there are instances where you will pay additional fees.
Below are a few examples of additional fees the 55+ HOA may require.
*If you are looking for a new construction community and the builder is still there, remember that the builder is probably subsidizing those expenses. *
🍽️Food and Beverage Fees
If your HOA has a restaurant, there will likely be an additional annual fee to support the restaurant. Whether you decide to dine there or not, it is a mandatory fee. This is where you can really see a discrepancy in terms of an increase in fees. Managing a restaurant properly is essential to avoid paying assessments.
Ask questions and visit the restaurant before buying. Look at the HOA's budget and see how the restaurant is performing. Are there any shortfalls? Is the HOA supporting the restaurant?
---
🙋‍♀️Participation Fees 55+ Communities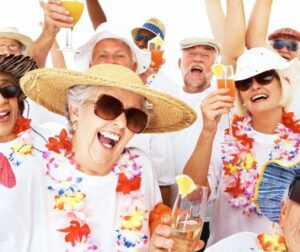 Although most 55+ communities are amenity-rich, there may be times that you will have to pay to either attend or take part in a class or event. For instance, my community, Cresswind at Lakewood Ranch, has certified physical fitness instructors to teach classes. There is a fee per class to attend.
Our arts and crafts programs offer a variety of classes. Those classes usually involve supplies and sometimes an outside instructor. If you want to attend one of those classes, you must pay.
Bringing talent into the community. Full-time activities directors plan various events, and sometimes that entails bringing in talent. For example, my neighbors enjoy listening to live music. So, it is common for us to pay $10 or $20 per person to attend.
---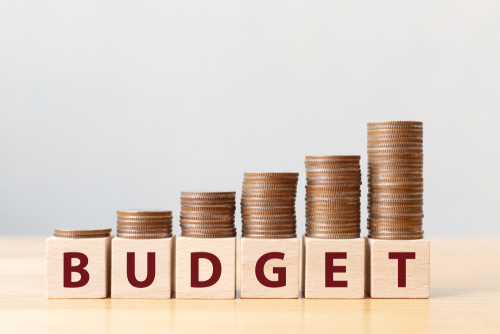 One great tip for buying in a 55+ community in Florida is to plan for the unexpected. Living in Florida does have advantages. We save on state taxes and have an active lifestyle throughout the year. However, it does come with some risk. Heat can take a toll on the maintenance and life of equipment, including your car.
Coming from the Midwest, our AC units lasted quite a long time. Here in Florida, my AC unit runs almost all year and will need to be replaced sooner than one from up north. There are other expenses, such as exterminators for termites and swimming pool maintenance.
My house also requires a little more exterior maintenance. Most HOAs require that your roof, the exterior of your home, and the sidewalk remain clean and free of fungal growth. This will require power washing your house, pool cage, and roof.
Insurance can be higher in Florida than in other parts of the United States. So, consider these items. Florida insurance claims, especially for tropical storms or hurricanes, come with a high deductible.
Tropical storms not only impact your home but the amenities of the neighborhood as well. Significant damage may increase your HOA dues or require an assessment.
I know these things are not popular to talk about, but it is the truth. And it is something you should plan for when you buy a house in Florida.
---
🌊Look for Amenities that Suit Your Lifestyle
Newer 55+ communities, especially here in Florida, are loaded with amenities. For instance, Del Webb at Lakewood Ranch has a 24,000 sq ft clubhouse with a full gym, billiards room, large ballroom, full kitchen, dance floor and additional meeting and game rooms.
Most neighborhoods will also have an outdoor physical sports area with pickleball, tennis, and bocce ball. The swimming pools can compete with resorts and spas in Vegas and California. Some even come with poolside drink service.
In addition to the amenities, you will also find a full-time activities or lifestyle director onsite. The person is there to plan parties and organize get-togethers. If the retirement community is smaller this person may wear many hats.
🎥 See the Cresswind Amenity Center Video Here 🎥
However, larger communities such as a Del Webb or Cresswind, this is a full-time salaried position with benefits. The HOA fees pay for this. When cost of living adjustments are made to employees' salaries, you can expect your dues to increase incrementally.
But, will you use it? Granted, these neighborhoods are designed to appeal to and offer something for everyone.
Although you may only use some of it, will you get your money's worth?
A fine line exists between what a community offers and what someone is willing to pay. Resale value will be a good indicator of the desirability of a neighborhood.
In my experience, communities such as Del Webb understand the balance. They successfully work a formula for providing enough amenities to keep everyone entertained without blowing the budget.
---
💵Resale in a 55+ Community Florida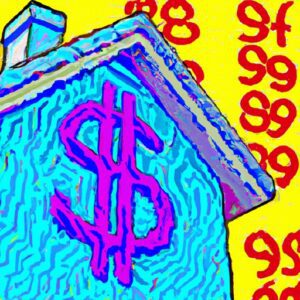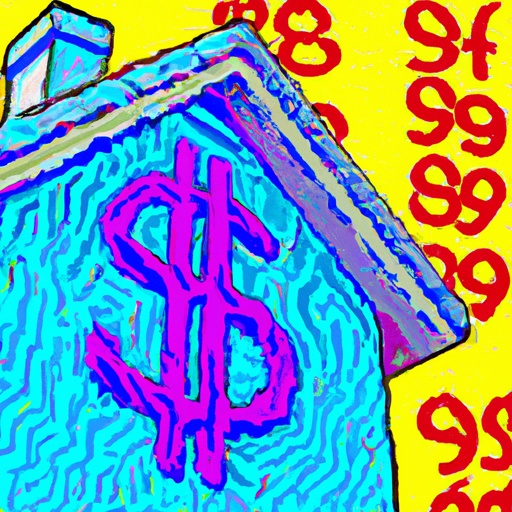 Assessing the future resale value involves looking at the sale history of a community. Many things factor into the resale of a home. Primarily, it boils down to location, condition, price, and fees.
The days on the market (how long a home was listed before it went under contract) will indicate that the above criteria were in alignment and if the neighborhood is in demand.
Also, look at the List Price to Sales Price Ratio. This shows you how much the seller took off the price of the home. A high list price-to-sales ratio indicates the house was priced accordingly and the neighborhood is desirable.
This is when you want a good Realtor who can run a sales history and interpret and communicate the findings.
---
🚘Visit the Community Multiple Times
Visiting a neighborhood at different times of the day and week will give you a good indication of how vibrant it is. I have seen my neighborhood on certain days look like a ghost town. Nobody is at the pool, there are no activities in the clubhouse, etc. That would give anyone the wrong impression if they were visiting just once.
Afternoons, people are not out walking, especially during the summer months in Florida. You will see the walking club in the early AM and outdoor pool activities in the morning and later in the afternoon.
Bigger events, such as a live band, will be scheduled on a weekend.
🛌Stay in the Community
Some new construction neighborhoods allow you to rent a small bungalow from the builder for a few days. Otherwise, ask your real estate agent about private rentals inside the community. Some neighborhoods have strict rental policies, but it never hurts to ask.
See the Article: New Construction, Do I Need a Realtor?
If you have the opportunity to stay in the community, it will give you insight into how active and loud the community is throughout the day. Plus, it gives you a chance to meet some of the residents.
🥳Play in the 55+ Community
Even if you cannot stay in the neighborhood, try to attend some of the events. Many new construction and established active adult communities will issue day passes to interested buyers.
Doing this lets you meet, talk with residents, and get a feel for the community vibe.
Feedback from this tip for buying in a 55+ community: Buyers either fell in love with the neighborhood or realized it wasn't a good fit. Most people knew after a day or two whether the move was right.
I recommend activities that allow you to sit and talk while working on a project, playing pool, or a card game. It is hard to talk while playing pickleball. However, most neighborhoods have group players, and most will visit afterward.
Find something that, if you lived there, you would be likely to participate in. This not only allows you to talk and visit but also find people who have similar interests.
---
🤓Find a Realtor that Knows Active Adult Communities
Not every real estate agent is created the same. Just like you want to find the best doctor, attorney, and accountant, you should find a good Realtor. Yes, a licensed agent can sell throughout the state of Florida but should they?
Good agents usually specialize in certain areas and demographics. For instance, I am not your agent if you want a high-rise condo in downtown Sarasota. I used to sell condos in Miami and led the top 1% of sales for condos. But here in Sarasota, I do not know that market. I would be doing you a disservice by accepting you as a client.
The same goes for any specialty. Research who is publishing articles and videos on the topic of 55+ communities in the area you are interested in. Interview them.
🎥You Might Like the Video: Best Villa Neighborhoods, Lakewood Ranch 🎥
Ask questions. A good agent welcomes the opportunity to discuss their profession. Just remember, the interview goes both ways. When I talk with clients who express interest in living in a 55+ community in the Sarasota/Lakewood Ranch area, I want to ensure they understand the pros and cons of living in an age-restricted community.
My job is to prepare you as a buyer and to discuss the rules, HOA dues, resales inside the community, and personal experiences inside those neighborhoods.
Tips for Buying in a 55+ Community in Florida was created as a guideline when exploring various communities.
🔎Search Homes for Sale in Del Webb & Cresswind Here
Homes for Sale Cresswind at Lakewood Ranch
---
Can You Buy a 55+ Home for Your Parents?
It depends on how old you are. If you meet the 55+ community minimum age requirements, then it is possible. If you are paying cash & are not on the deed, but your parents are, you should be able to buy the home for the.
How Much Does it Cost to Live in a 55+ Community in Florida?
Several factors to figure into the cost of living include HOA Fees, Participation Fees (for group activities), Food & Beverage Fees if there is a restaurant, Property Taxes, and Insurance. Since most 55+ Communities in Florida are Amenity-Rich, the HOA dues can be higher than a non-age-restricted neighborhood.
Do 55+ Communities in Florida Allow Young Adults?
Each HOA sets the minimum age for minor children. You will likely see the minimum age between 18 and 19 years old. So, if you have a college-aged child, most likely, they will be allowed to live there. Check the rules & regulations of the community.
I have been in real estate sales for over 24 years. I am originally from the Midwest and have lived in beautiful Florida for over a decade. My career sales are over 2,300 homes sold. There aren't too many obstacles I haven't encountered throughout my work history. I provide you with honest advice backed by years of experience and understand that a real estate purchase or sale is your top priority.
Nationally recognized. Licensed FL Real Estate Instructor. Contact me at Sandy@SandyWilliams.com or call 941-564-9491

Summary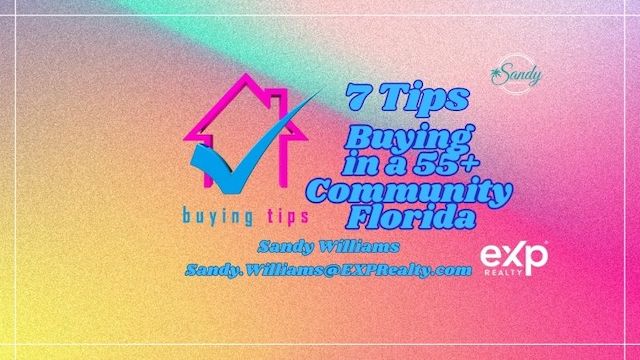 Article Name
7 Tips for Buying in a 55+ Community Florida
Description
What Do You Need to Know Before You Buy in a 55+ Community? See the Questions and Get the Tips for Buying in an Active Adult Community-Florida
Author
Publisher Name
Publisher Logo