What are the rules for a 55+ community in Florida? Do they differ from other states? If you are considering moving to Florida and looking into an age-restricted community, figuring out what you can and cannot do before you buy will save you from making a big mistake.
Today, I will cover the rules and common questions my clients have asked me when they were considering a 55+ community in Florida. I have lived in two 55+ communities in Florida. So these are not "textbook" answers but experiences from myself and my neighbors.
See the Article: Pros & Cons of Living in Del Webb
Although 55+ communities in Florida can be attractive because of what they offer, such as the amenities and socialization, they are not for everyone. Plus, understanding the rules, for instance, the Florida 80/20 rule, can go a long way in your enjoyment of a community.
Not every active adult community in Florida is alike. However, you will find similar rules and regulations, such as the age of ownership, minimum age requirements, and length of stay for persons below the minimum age. Although regulations are neighborhood specific, most have adopted similar guidelines to remain competitive in the real estate market.
---
❓What is a 55+ Community in Florida?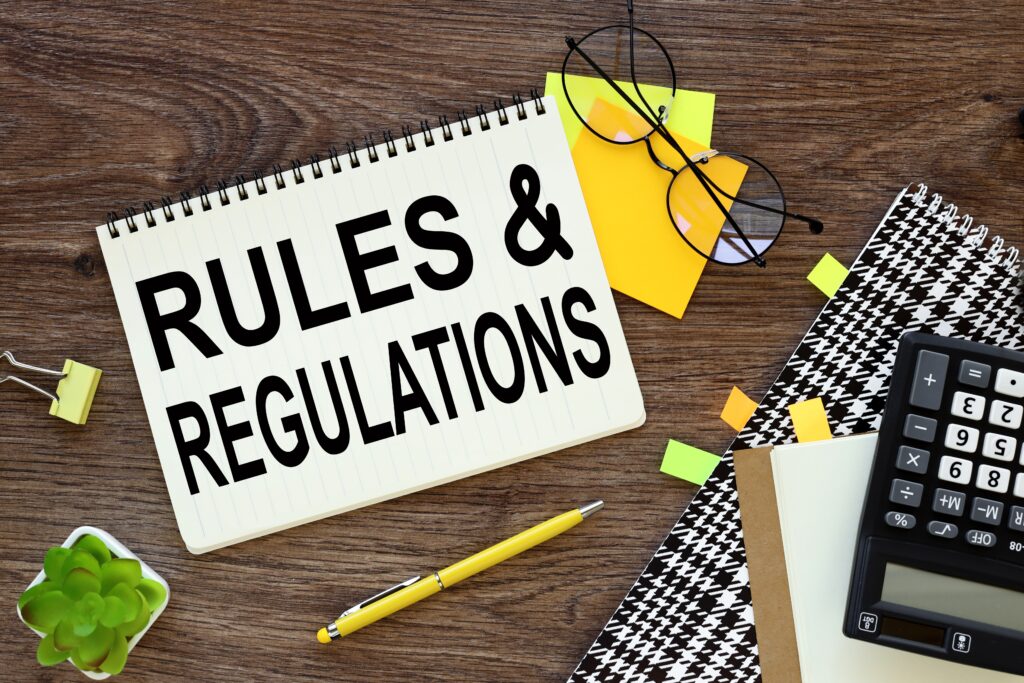 First of all, not all 55+ communities are full of old people. That is a major stereotype and is not correct. These communities have an exemption from HUD (Department of Housing and Urban Development) regarding the Fair Housing Act regarding age.
Most age-restricted communities here in Florida are very much an active adult community. In Florida, there can be owners below the age of 55. People who take early retirements or are digital nomads are attracted to age-restricted neighborhoods for the peace and quiet they provide.
Many are below 55 yrs old. Don't be surprised to see an owner that is 47 yrs.
Later in this blog post, I will address Florida's 80/20 rule, which allows people under the age of 55 yrs to live and own in a 55+ neighborhood.
Learn More About Cresswind Lakewood Ranch Here
---
🚫What are the Age Restrictions of a 55+ Community?
What makes a neighborhood a 55+ community is that they can legally set guidelines and limit buyers' age as well as the occupants' that reside in the home (if the community qualifies for HUD's exemption).
However, to be eligible to restrict age, each community must adhere to the following requirements:
At least 80% of the units must have at least 1 occupant who is 55 years of age or older.
The community must publish and adhere to policies and procedures that show the intent to operate as a "55 yrs of age or older"
The community must comply with HUD's regulatory requirements for age verification
Because 55+ communities must report and track the age of residents, each buyer will be required to fill out a form during the buying process to determine eligibility.
---
⚖️Florida's 80/20 Rule 55+ Communities
HUD's restrictions for a 55+ community left it open-ended regarding the age of the remaining 20% of the homeowners. The onus was on the associations to determine the remaining 20%. The rule by HUD was vague and led to confusion and misunderstandings. The concerns were understood, given there is a fine line between restricting age and violating the Federal Fair Housing Act.
Adopting the 80/20 rule in Florida allowed for clarification while providing direction to the 55+ communities. Although Florida communities are NOT required to follow this rule, many 55+ communities have done so.
Florida's 80/20 rule for 55+ communities is as follows:
The minimum age is the discretion of each association.
20% of the owners can be below the age of 55 yrs.
Also, stipulating a minimum age of ownership is a community responsibility. This, too, varies by neighborhood. The most common minimum age of ownership is 45 yrs old.
In addition, to the rules and regulations of a 55+ community, there is a minimum age for a full-time resident. Most communities, such as Del Webb and Cresswind in Lakewood Ranch, have made the minimum resident age 19 yrs old.
So, you will see comments; for example, up to 20% of the owners can be under the age of 55 but must be at least 45. No one under the age of 19 can be a permanent resident. This is typical for a Florida 80/20 rule.
---
🏡Owning in a 55+ and Being Under 55
Can I own a home in a 55+ community in Florida and not be 55? Yes (maybe). This is going to depend on the community you are looking at. Referring back to the Florida 80/20 rule for 55+ communities the answer depends on what the community allows.
Since 20% of the homeowners can be below the age of 55, it is up to the association to determine the minimum age of ownership.
In Cresswind and Del Webb at Lakewood Ranch, the answer is yes as long as the 20% has not been reached.
I have represented buyers in both neighborhoods who have taken early retirement but wanted the amenities and the social environment these communities offer.
I am surprised that many of my neighbors thought everyone had to be at least 55 yrs old to live here. Seeing younger owners can be somewhat confusing, but they can be here. So if do not want to live around someone who is 47, for instance, carefully read the neighborhood guidelines before you buy.
One Owner 55+: The Other is Not
Can we own a home in a 55+ community if one of us is not 55? Yes. As long as one person on the deed is at least 55 yrs old. What can get tricky is what happens if the relationship changes and the solo owner is below 55.
Keep in mind the community will have a minimum age limit for ownership. So, you may have to meet that age limit and be included as part of the 20% to keep your house.
Children inheriting property in a 55+ community must also meet the age requirements for ownership.
*Verify all of this with the community and the governing documents. Also, consult with an attorney.*
---
📅Length of Stay Requirements for Under Minimum Age
Most 55+ communities in Florida have a maximum time that a visitor under the minimum age requirement can stay. You will find the restrictions in the governing documents filed with the state. Documenting and tracking the ages of owners is part of HUD's guidelines.
Don't be offended when you are asked to supply supporting documents for age and list your family members with their ages on an approval application. Communities must collect and maintain this information to remain compliant with HUD.
Age Restrictions & College-Age Children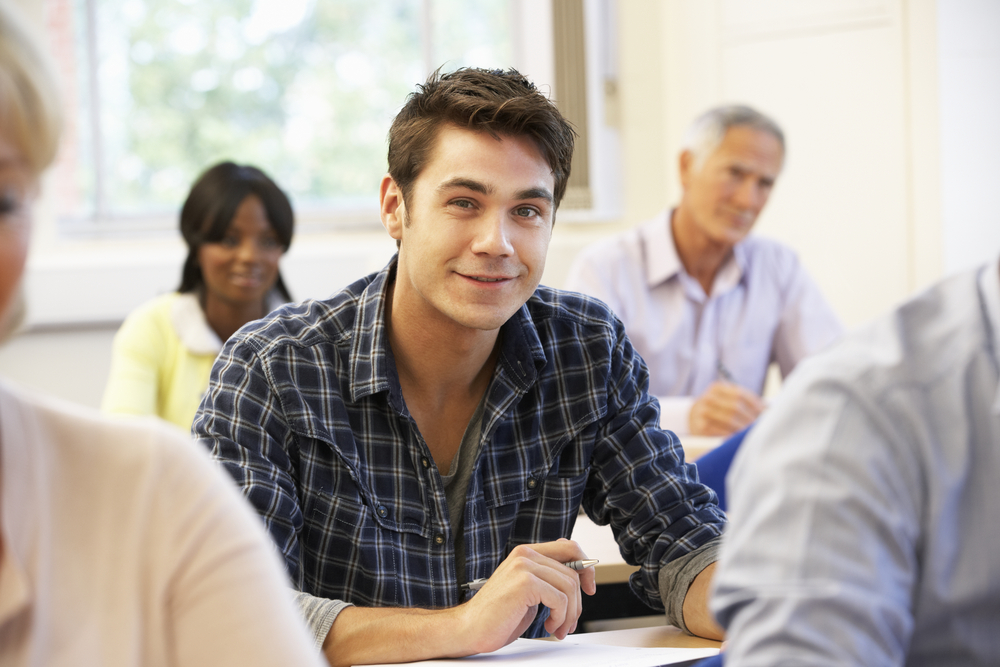 Can I buy a home in a 55+ community with a college-age child? The answer is yes in most neighborhoods. And it is also contingent on the length of stay.
For instance, if your child is away at school and only coming home for holidays and/or summer breaks; they are spending more time away than at home. **Check the community's regulations for minimum-aged residents**
If your college-age child is over 19 yrs old, they may be eligible to become a permanent resident. Since many college-age children are taking more courses online and living at home, age may become a factor since they will be permanent residents.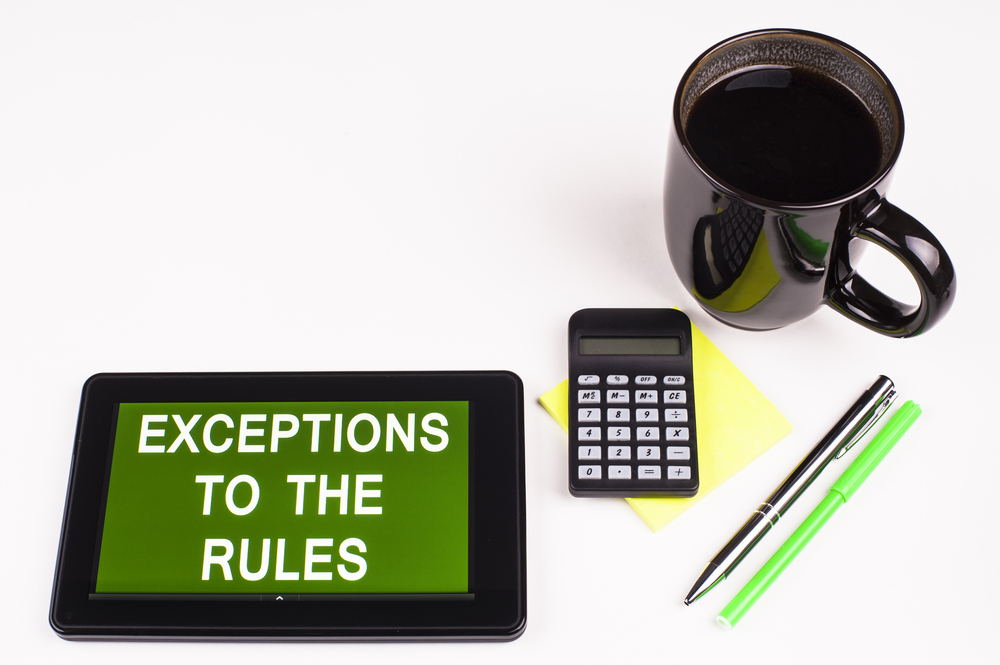 Special Needs Young Adults in a 55+
Can my special needs or handicapped child live with me in a 55+ community in Florida? Being the main caregiver for a special needs child and living in a 55+ community may come with challenges regarding age. This is community specific.
However, I have seen exceptions to this rule in both communities I have lived in. On a personal note, I have had several clients with special needs young adults, and the associations and the residents welcomed them with open arms.
*Before you consider a neighborhood, refer to the governing documents. If the rules are unclear, put a request in writing and get approval.*
Visiting Grandchildren in a 55+ Community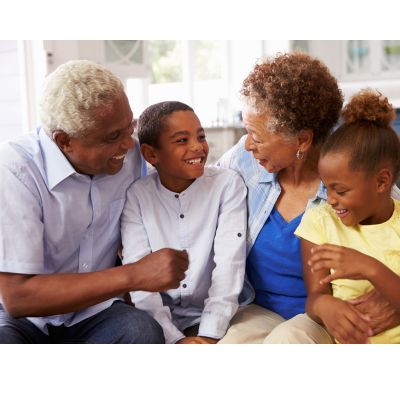 Can my grandchildren visit if I live in a 55+ community? Yes, they can. However, most communities have a maximum length of time to stay.
Del Webb and Cresswind in Lakewood Ranch have a similar policy pertaining to maximum stays for people under 19 yrs old. In both neighborhoods, your grandchildren can stay no longer than 90 days.
If you are like most of my clients when I answer this question, most agree that just a few weeks of visitation is just enough! But, if, for some reason, a family emergency arises requiring you to provide childcare, the 90-day rule will apply.
In addition, some communities will limit the times that your grandchildren can use the facilities such as the swimming pool. I have seen some communities dictate, for instance, that children are not allowed between 12 PM – 3 PM.
---
💰Resale Value 55+ Community Florida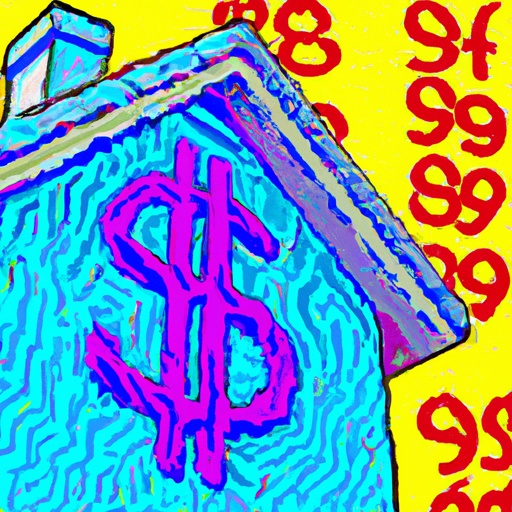 What are the resale values like in a 55+ community in Florida? Good question. Since there are age restrictions, what is the return on your investment?
I know quite a few of my clients tell me this is their last home and they are not moving. But I would be out of business if that held true!
And since I am coming up on 25 yrs of selling real estate, the odds are good that some of you will be selling.
Can you get your money back or any appreciation if you sold your house in a 55+ community in Florida? Many factors go into pricing a home, such as condition and location.
Search Homes for Sale Del Webb Here
Resale Value in Del Webb Lakewood Ranch
Let's use Del Webb at Lakewood Ranch as an example. Since Del Webb is over seven years old, and the builder recently closed out the community, resales will be the only way to buy. We have enough data to look at an entire year of sales. Since the sellers are no longer competing with the builder, chances are they are getting a better price now.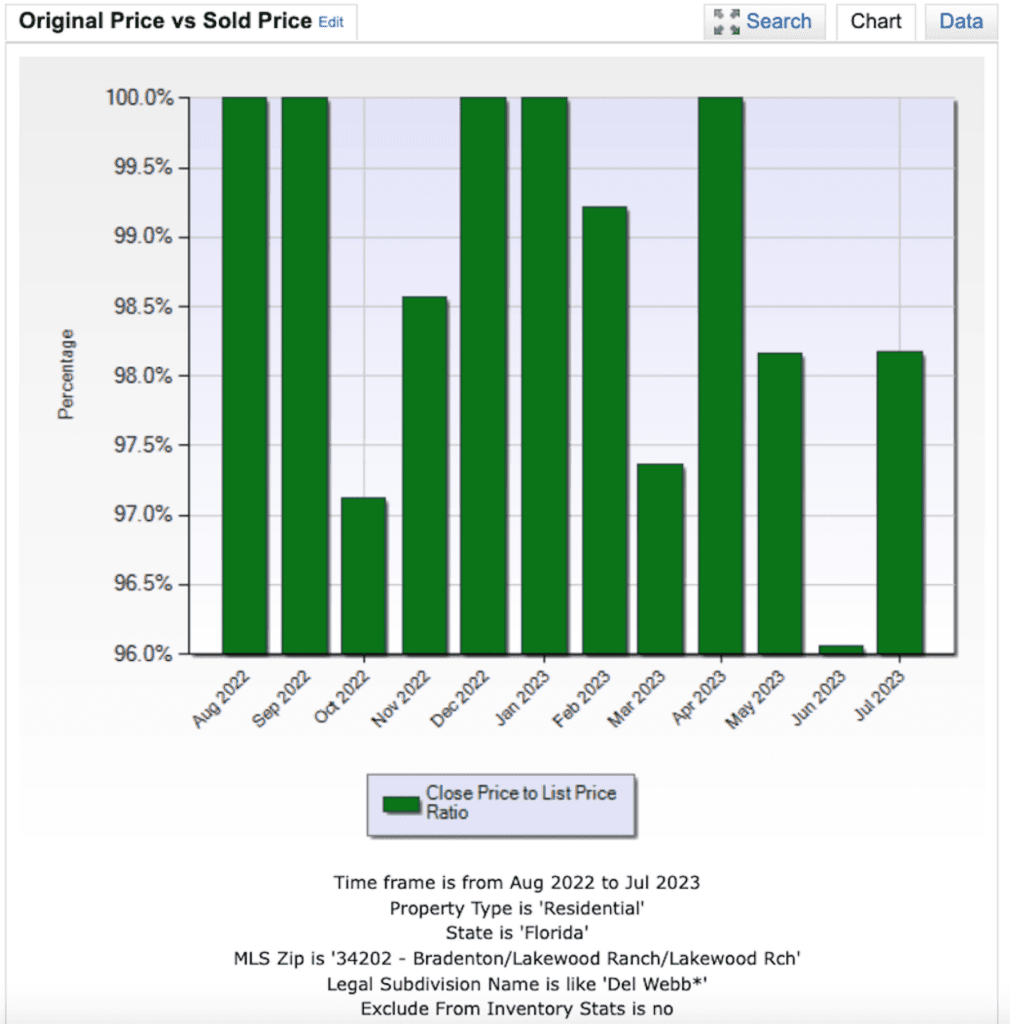 To the left is a list price-to-sales price ratio for the Del Webb community in Lakewood Ranch.
A list-to-sales price ratio shows you the % difference between the seller's asking price and the negotiated buyer price. This is a good indication of how desirable the place is to live.
Looking back on August and September 2022 the sellers got 100% of their asking price. But in October it was 97% (we had a major hurricane that month).
Going back into high buying season, which starts in December, you can see that buyers were once again paying 100% of asking price. There were times throughout the year the sellers did take less.
Overall, they sellers took very little off the price of their home. Several reasons can be attributed to that. First, the house was priced appropriately for size, location, and condition. Second, there was enough buyer demand the seller didn't have to reduce the asking price to attract a buyer.
*There is a clue here regarding when you should buy a house in Florida. 🔎 Look closely and reach out to me for more details.*
---
🥳Activities in a 55+ Community Florida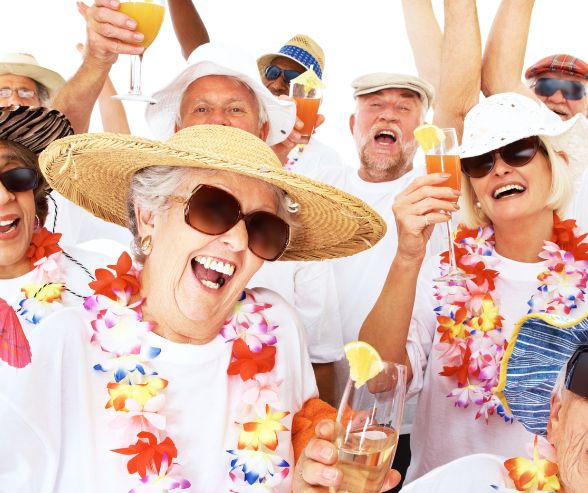 What is there to do in a 55+ community in Florida? One of the biggest reasons people relocate to Florida is to retire and enjoy the weather. Moving can be stressful. You may have left your family and friends in another state. Moreover, meeting new people when we are no longer working can be a challenge.
Sometimes retiring can be isolating.
But it doesn't have to be…
Most age-restricted neighborhoods here in Florida are designed for you to remain active socially as well as physically. This is the time to enjoy everything you worked so hard for and for so long.
55+ communities are set up for you to "hit the ground running." It is like having a set of instant friends..you just haven't met them yet.
How is a 55+ community different than a non-restricted neighborhood?
Lifestyle Directors 55+
The larger communities will have a full-time, on-site activity or lifestyle director. This person is responsible for organizing get-togethers within the community and sometimes outside. They will also facilitate the social and special interest clubs.
I see our lifestyle director weekly. Her office is in the clubhouse, and it is always nice to talk to her and get an idea of the events she is working on. These directors can introduce you to your new neighbors and, more than likely, will attend the events they organized.
Out of all the employees in the community, the activity director is the most important. They are the social lifeline of the neighborhood.
They will organize fun, diverse events such as wine tastings, live concerts, holiday parties, and trivia nights. Recently our activity director started a game and music trivia night. Attending events allows you to meet many of your neighbors and find people you have something in common with.
I am a little on the shy side, so I find big crowds a little overwhelming. If you are like me, try a club first. They are usually smaller groups and not as intimidating.
---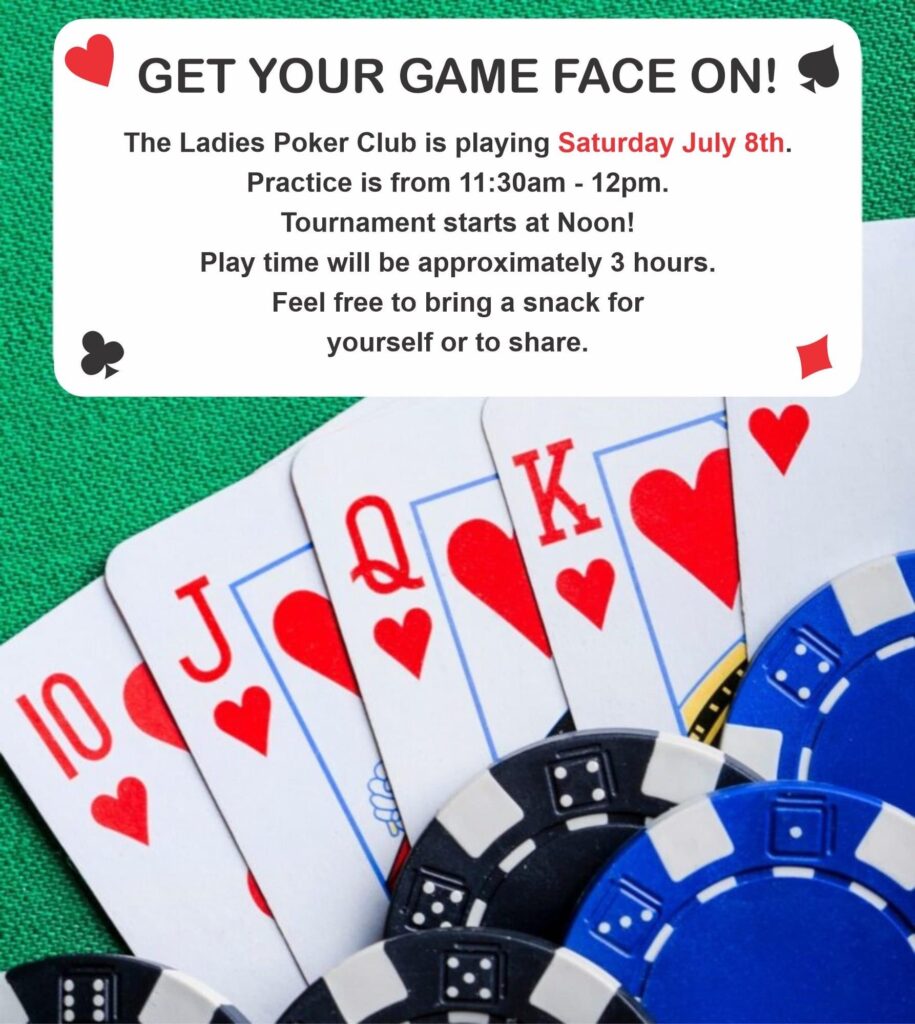 Special Interest Clubs in 55+
Whether you want to learn something new or share your experiences with neighbors that have the same interests, clubs are the way to do it. I enjoy clubs because I can learn from others in a smaller group setting and have the opportunity to get to know someone on a personal level.
Most active adult communities have clubs with the following interests:
Games (Poker, Billiards, Hand & Foot, Mexican Train, Bridge, Mahjong, Bunco)
Physical (Biking, Kayaking, Pickleball, Bocce Ball, Tennis, Running, Yoga, Shooting)
Art (Pottery, Painting, Crafts, Photography)
Cooking & Wine
Investing & Money Management
Charity & Fundraising
Reading & Philosophy
Sewing & Quilting
Support Groups
Starting a new club is also welcome. The lifestyle director will usually help you get the ball rolling.
---
🏓Amenities in a 55+ Community Florida
Enjoying an active lifestyle is also based on physical activities. The reason why so many people are attracted to a 55+ neighborhood can be attributed to the amenities. Where else can you enjoy a January basking in the sun by the pool with a cool drink?
In newer age-restricted communities in Florida, you will find resort-style amenities that would rival hotels and spas in places such as Scottsdale and Las Vegas.
Pickleball in 55+ Florida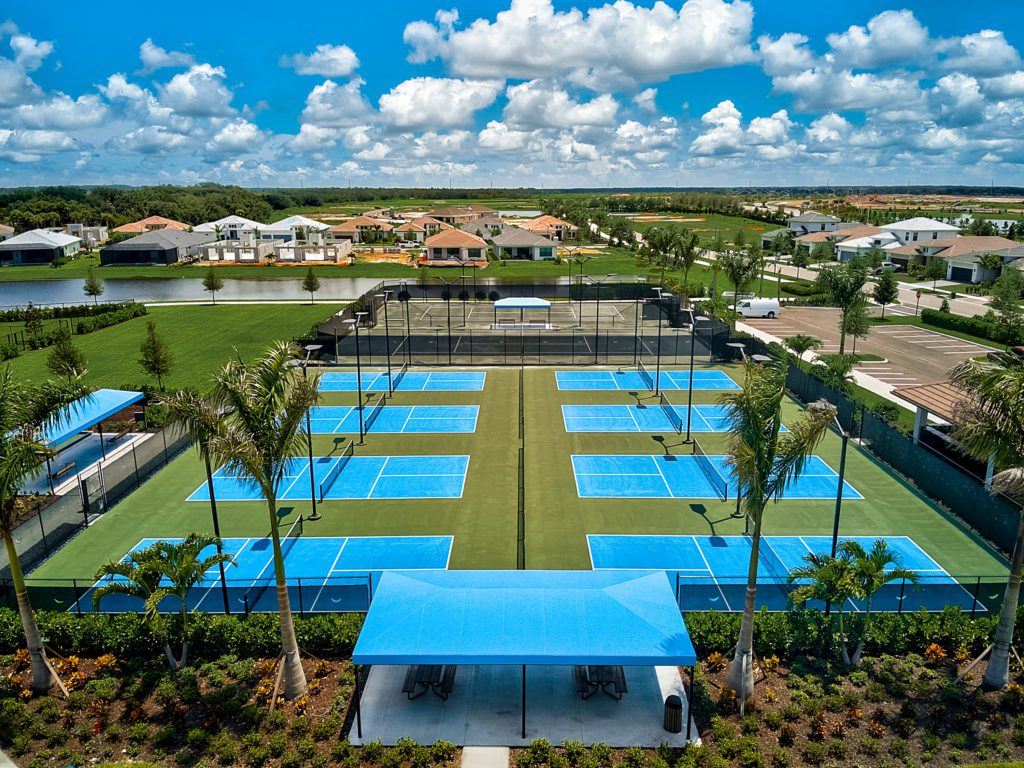 If you haven't tried pickleball yet, you are in for a treat! Not only does it give you a good workout but it can also be a social game too. In newer communities, you will find several courts and organized groups for every level. Some neighborhoods such as Del Webb in Lakewood Ranch bring in professionals for private and group lessons.
In Lakewood Ranch, for instance, communities that have pickleball groups will play in local tournaments. Cresswind at Lakewood Ranch will travel and play other Cresswind neighborhoods throughout Florida.
I like pickleball; however, my skill is not at a tournament level. So, I stick with the ladies' "dink and drink" weekly games.
Swimming Pools in 55+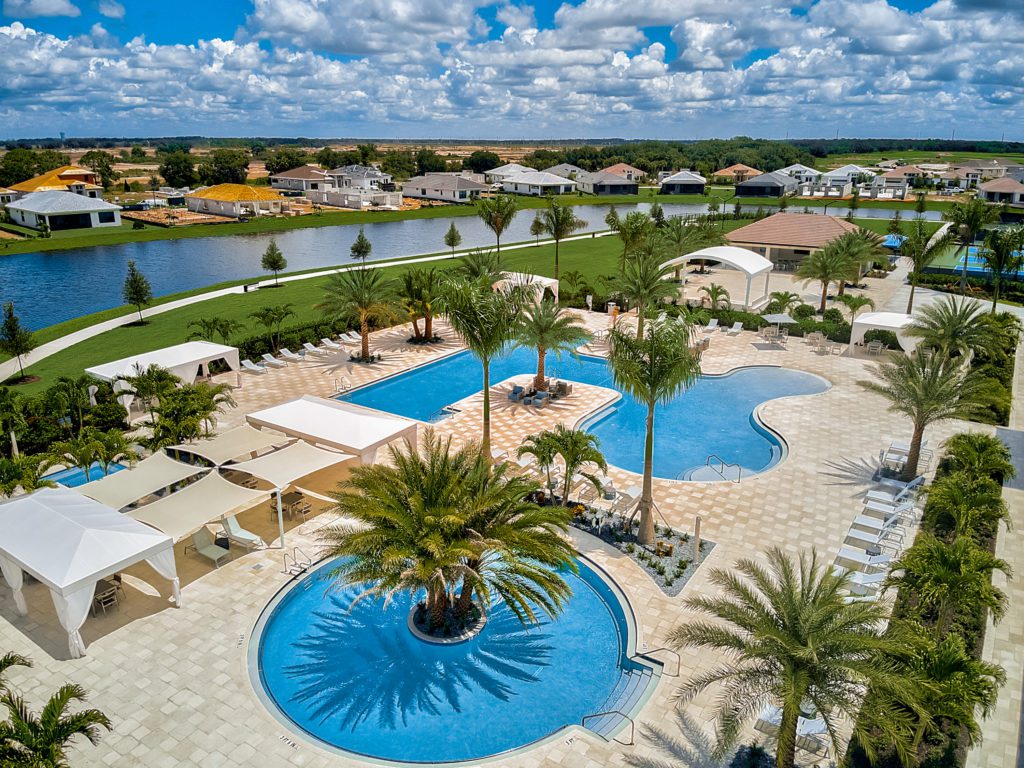 The larger 55+ communities will have a zero-entry heated pool, an area for swimming laps, and a hot tub. Some, like Cresswind at Lakewood Ranch, will even have a resistance pool.
These pools are not just for leisure activities, though. Most will have activities such as water aerobics and water Zumba. These are great ways to increase your heart rate without too much pressure on your joints.
I enjoy water workouts because they allow me to appreciate the beauty of being outdoors while socializing with my neighbors.
Gyms in Active Adult Communities
I have yet to find a 55+ newer neighborhood that does NOT have a great gym. The gym is well equipped, and you could also find spinning bikes.
Most facilities will also include a group fitness room. The group classes might include yoga, Zumba, pilates, and more.
The opportunities to stay fit and mix it up by taking a class are there for you to enjoy.
---
🔎Privacy in a 55+ Neighborhood
Will I lose any privacy by living in a 55+ community? Yes and No. This answer is based on my experience living in one, including many of my clients'.
55+ communities are different based on the fact that the majority of people do not work.
When you work, you usually pull out of your garage, drive to the office and then drive home. You park your car in your garage, say hello to a passing neighbor and then go inside.
Your interactions with your neighbors are limited, especially if you work all day. You may talk to a neighbor on the weekend or make plans to get together. Your actions for socialization are more deliberate and planned.
In a 55+ community, the majority are retired and they are out and about. In the mornings, you will find them walking, gardening, and talking in their front yards.
My next-door neighbor has a coffee club in the morning, so it is common to see 4 or 5 people sitting outside having coffee. They know when I am headed to the gym and when I leave for an appointment. Normally, I greet them and say hello before I head out.
Can it be a pain? Sometimes. Do you give up privacy? Sometimes.
Because residents are at home and more active in the community, they usually know what is happening around them. That can have its advantages as well as disadvantages.
Some of my clients are private and still find that they can enjoy activities and maintain some discretion.
Although I sell real estate and am active in my neighborhood, I really don't want people in my business. I, too, have managed to maintain a level of privacy. Not all communities are like this, though, and some can be big gossips. So ask around and choose wisely.
Safety in a 55+ Community
Are 55+ Communities Safer? Neighborhood watches work, and 55+ communities are no exception. Since your neighbors are home more, they know who lives where and when someone does not belong.
The power of social media, such as Facebook, goes a long way for neighborhood communications. On a weekly basis, someone in my neighborhood has captured a solicitor on their doorbell camera and posted the photo on Facebook.
Neighbors looking out for neighbors can be the best form of security.
Most 55+ communities in Florida are gated. Gated neighborhoods imply safety, but it is up to the visitor policy. Some guards will call owners and get permission for entry, while others will waive people through without vetting.
Gated communities can be a false sense of security. But your neighbors are home and looking out for you.
---
🐶Pet Policy in a 55+Community
Pets permitted in a 55+ community are not a given. Check the community rules to see if they are allowed. Some neighborhoods will even prohibit visitation if they do not allow pets.
Most of the newer communities in Florida will allow pets but will limit the number of dogs you can own.
Dog Parks in a 55+
If pets are welcome, you can expect a dog park, walking trails, and pet parades. Cresswind at Lakewood Ranch has two dog parks and a beautiful walking trail. There are also pet events like a Halloween pet parade. Del Webb has pet get-togethers, so doggie days are a real thing!
---
✅55+ Rules & Questions Summarized
✅55+ communities in Florida must follow HUD guidelines in order to restrict age.
✅Florida has an 80/20 rule which allows for 20% of the owners to be under the age of 55. However, this is still up to the specific neighborhood and they are not required to have a lesser age.
✅Most newer communities do follow the 80/20 rule here in Florida. In addition, they do have a limit on how young you can be to own. For instance, in Del Webb and Cresswind Lakewood Ranch, an owner can be as young as 45 yrs old (as long as they meet the 20% rule).
✅Only one homeowner has to be 55 yrs or older to buy in a 55+ community. The other co-owner can be below the age of 55 yrs old. However, should the relationship change, the community could reevaluate ownership if the younger owner wants to keep the home.
✅55+ communities in Florida are geared towards keeping you socially and physically active. The activities director will promote and organize events within your neighborhood as well as outside the community.
✅Active Adult communities in Florida are popular for their amenity-rich facilities. Many will have resort-style pools, fully equipped gyms, pickleball, tennis and bocce ball courts.
✅Resale values in 55+ communities in Florida remain strong. Sellers usually negotiate very little off of their asking price.
👩‍👦Can a Child Live in a 55+ Community?
Most 55+ communities have a minimum age requirement for permanent residents. Unless there is a medical exception, the answer is NO. Every neighborhood is different, with minimum age requirements. Check the rules & regulations. Some neighborhoods do make exceptions.
❓What is a 55+ Community in Florida?
For a neighborhood to be designated as a 55+, it must meet specific federal guidelines. The community that meets the criteria can restrict owners' age and allow people below the age of 55 to own.
🏡Can I Buy in a 55+ Community if I am not 55?
Maybe. Each community determines this. However, neighborhoods like Del Webb and Cresswind at Lakewood Ranch, Florida allow owners to be as young as 45.
⚖️What is the Florida 80/20 Rule for 55+?
The 80/20 rule allows 20% of the owners in a 55+ community to be younger than 55. However, the minimum age is set by each neighborhood, and they do NOT have to allow younger owners.
👧🏼Can Someone Younger than 55 Live in a 55+ Community in Florida?
Maybe. It depends on the age. Permanent residents must meet the minimum age limit. College-age children who only come home for breaks and holidays may be eligible to stay. This is community specific. Check the governing documents of the community you are interested in.
I have been in real estate sales for over 24 years. I am originally from the Midwest and have lived in beautiful Florida for over a decade. My career sales are over 2,300 homes sold. There aren't too many obstacles I haven't encountered throughout my work history. I provide you with honest advice backed by years of experience and understand that a real estate purchase or sale is your top priority.
Nationally recognized. Licensed FL Real Estate Instructor. Contact me at Sandy@SandyWilliams.com or call 941-564-9491

Summary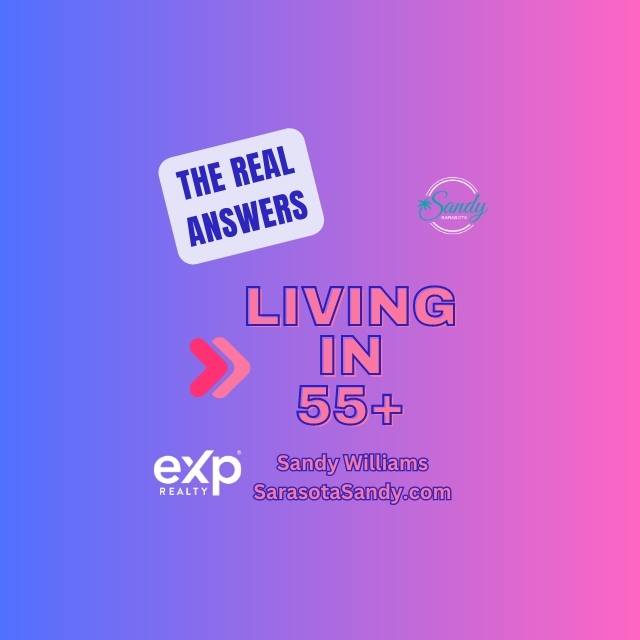 Article Name
Rules for 55+ Community Florida
Description
Learn about the rules and regulations of a 55+ community in Florida. All the common questions about living in a 55+ community are answered here.
Author
Publisher Name
Publisher Logo