Are you looking for an active community in Lakewood Ranch? What would you consider to be a vibrant neighborhood? These top 9 active communities in Lakewood Ranch should assist you in navigating the perfect place to call home. Lakewood Ranch is known for its award-winning communities that offer residents a variety of things to do depending on their lifestyle.
I recently had someone reach out to me to sell her home that she has lived in for just six months. Why do you want to sell so quickly? She told me that she acted too fast and didn't research the neighborhoods to find out that others were a better fit for her.
Moving isn't fun, and to think about doing it a few times is a big hassle and can get expensive! That is a costly mistake all around!
Researching new locations, such as Lakewood Ranch, FL, typically starts with the question: "Where should I live in Lakewood Ranch?"
Oftentimes, when you search for active communities in Lakewood Ranch, all you see are adult, age-restricted neighborhoods.
However, in this list, not all of these communities are over 55 neighborhoods. The majority here are multi-generational. Although there are two on this list that are 55+
🏓What Is an Active Community In LWR?
When I came up with the list of the top 9 active communities in Lakewood Ranch, I based the list on the following four criteria.
🥉Full-Time Activity Director
🏊🏽Community Amenities
🙋🏽‍♂️Participation of Residents
✅Supporting Services-Inside the Neighborhood
I weighted the full-time activities director and community amenities as must-haves in order to be considered in the top 9 active neighborhoods in Lakewood Ranch.
Why? In my experience, lifestyle directors are essential for facilitating events and bringing strangers together. It's like having your "wingman" with you among a crowd of people.
I also included one neighborhood as an "honorable mention". It is a very active community and is amenity-rich. However, there is no activity director.
---
🎾Top 9 Active Communities in Lakewood Ranch
Lifestyle is one element that most people think about when trying to decide where to live in Lakewood Ranch. You may be retired or perhaps working full-time. All of these active communities regardless of your work status will have plenty of things for you to do.
Much of this list is based on feedback from my clients who reside in these neighborhoods, or I have personally lived in or owned a home in one of the communities.
Lastly, this list is not ranked according to popularity nor implies that one is better than another. It is just an opportunity to explore which neighborhood in Lakewood Ranch is best suited for you.
---
🎯 Indigo at Lakewood Ranch
The community is built out, meaning there are no new construction opportunities. Every home will be a resale. Indigo is a Neal Community, is a mid-size neighborhood with approximately 681 homes.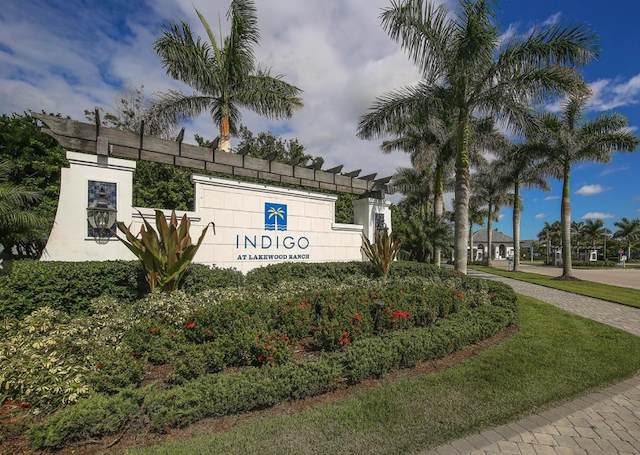 There are various floor plans, including attached villas and homes over 2800 sq feet.
The grounds at Indigo are beautiful and include several conservation areas. There are large preservation/green spaces with large oak trees, palms, and Florida native plants.
The scenery is ideal for morning walks with opportunities to watch Florida wildlife.
Indigo at Lakewood Ranch has a full-time activities director that facilitates and organizes events throughout the year. Moreover, you will find events such as wine down Wednesdays, book clubs, men's groups, and women's.
Although this is a multi-generational (all age groups) neighborhood, there is a nice cohesion here.
I have several clients whom I have sold homes in Indigo. They enjoy the community and have commented on neighbors helping neighbors.
Pickleball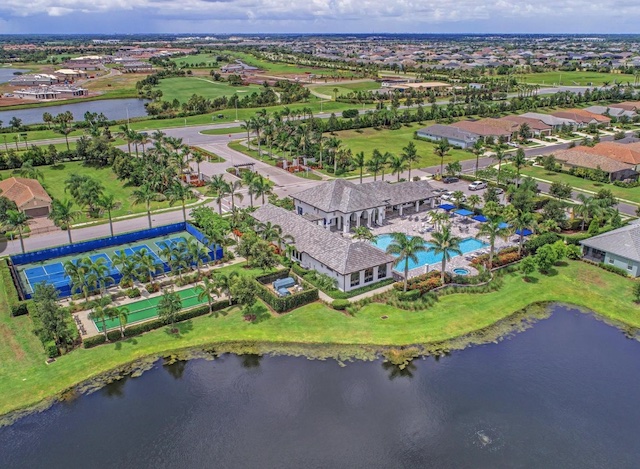 Indigo has four lighted pickleball courts. The residents have social play as well as women's groups and men's.
Secondly, they have formed a competitive group that plays in other neighborhoods inside Lakewood Ranch.
Unfortunately, there are no tennis courts at Indigo.
Pools
There is one large pool at the clubhouse for everyone to enjoy.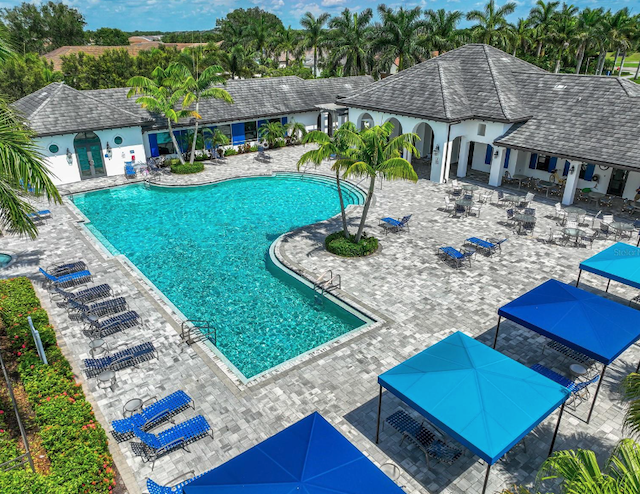 There is a pool reserved for the villa owners only. You will find picnic areas and bathroom facilities at both.
---
⛳️ Esplanade at Lakewood Ranch
There are two Esplanade communities inside Lakewood Ranch. This community was the first Esplanade constructed. Esplanade made it on the top 9 active communities in Lakewood Ranch because of everything to do!
Taylor Morrison is known for building amenity-rich communities, and this one does not disappoint. This is a golf course community. However, there are non-golf single-family homesites.
Esplanade at Lakewood Ranch has a mix of condos and single-family homes. Overall, there are 1250 dwellings. Most are single-family homes (960), with a few condo buildings totaling 294 units.
Esplanade at Lakewood Ranch started construction in 2011. This popular community sold quickly, and the resale opportunities are limited.
It seems like people do not want to leave this slice of heaven.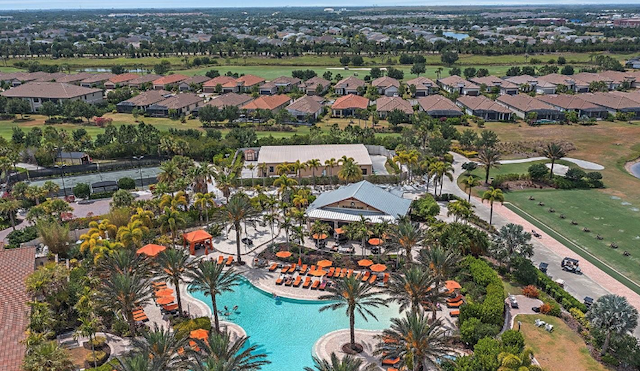 Restaurants in Esplanade
Esplanade has a large resort-style pool with available cabana rentals. Adjacent to this Vegas-style pool is the Bahama Bar. The Bahama Bar is an outdoor, covered restaurant with a Caribbean-influenced menu. This is a very casual bar, that offers pool service and hosts various dining events.
There is also an additional fine dining restaurant that has a culinary center attached. The culinary center is home to wine tasting events, cooking classes, and seasonal events.
Golf & Racquet Sports
Golf
Esplanade has a championship 18-hole course and practice areas. The driving range has synthetic and grass tee top/hitting areas.
The golf membership offers private and group lessons. The leagues are playing in tournaments throughout the Florida area.
Pickleball & Tennis
Tennis: There are six lighted HarTru courts. Esplanade's active tennis program includes leagues, themed mixers, and travel teams.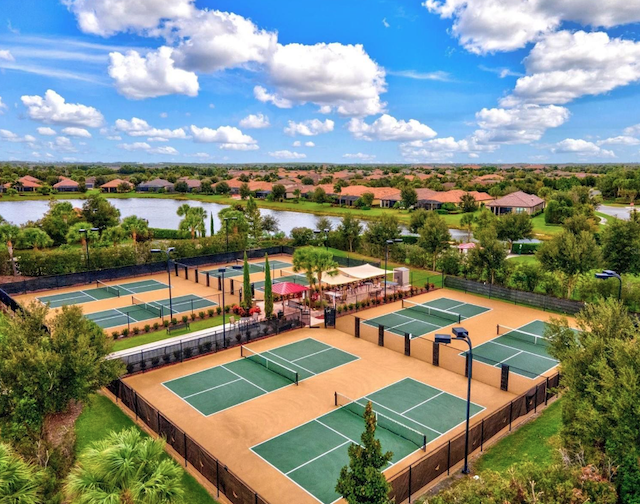 There is also a full-service pro shop that can repair and string racquets.
Pickleball: If you haven't tried Pickleball, you are missing out on the fun! Esplanade has social play as well as men's & women's groups. One day a week, you will find Social Open Play where residents casually play and mingle.
Swimming Pools & Spa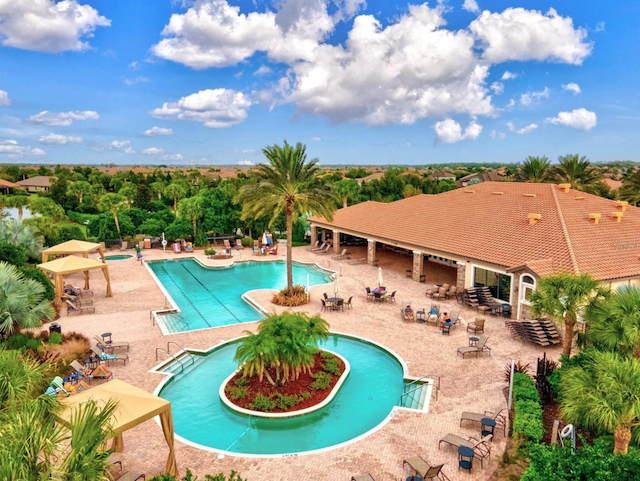 Pools: There are four pools located throughout the community. All of the collections are heated and offer cabana rentals.
The amenity center has two pools: a pool with swimming lanes and an exercise resistance pool.
Spa: The spa is open daily and has a variety of services, including massages, hair care, and makeup.
Resident Participation
Since this is an established neighborhood, residents have been actively forming clubs and volunteering.
If you enjoy playing mahjong, collecting wine, or perhaps volunteering at a local charity, you are in the right place. This community will make you feel at home the minute you move in.
Residents are happy to live here and enjoy the amenities.
---
🎨 Cresswind at Lakewood Ranch
Cresswind is an active adult community (over 55- age-restricted). There will be 650 single-family homes.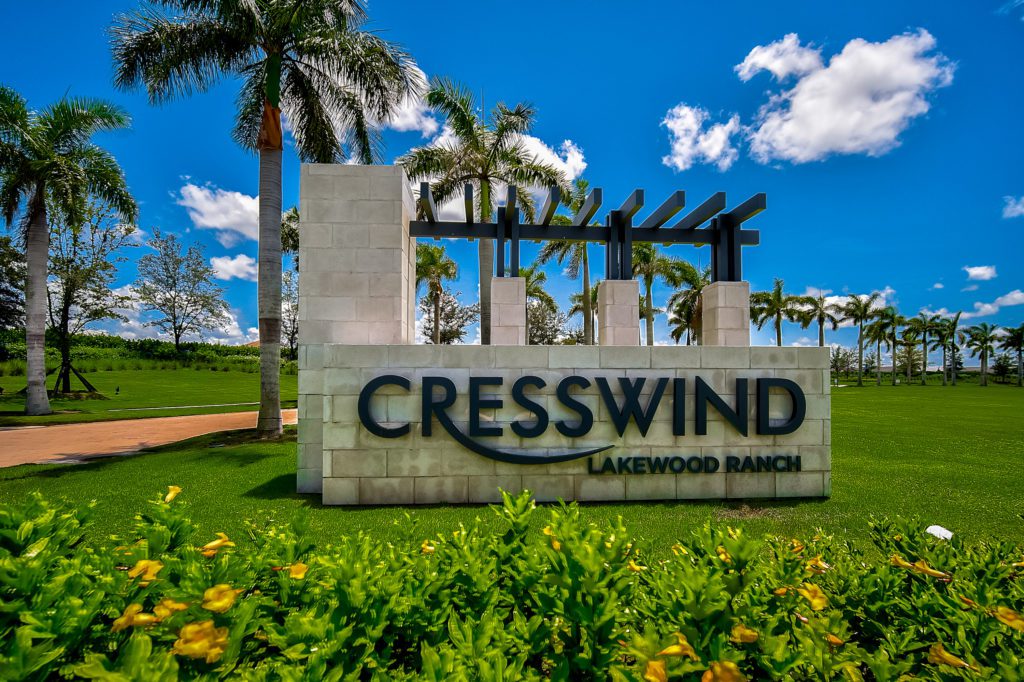 The community is focused on fitness, nutrition, and relationships.
Although, there is no restaurant inside the neighborhood. There is a designated area food truck area nearby the outdoor concert center.
Typically, food trucks come throughout the month and are often paired with outdoor events.
In this golfcart-friendly neighborhood, you will find personalized whimsical carts throughout. There are several golf cart parades during the year which give owners an opportunity to display their creations.
Learn More About Cresswind at Lakewood Ranch Here
Art Facilities
This active community in Lakewood Ranch has an extensive art following and is the only neighborhood with a kiln.
The art group is not only facilitated by the activities director but the residents themselves. They are mindful of bringing in outside artists for weekly classes.
Several artists reside in Cresswind and will often teach classes.
The art program is not just for experienced artists. There is something for all skill levels.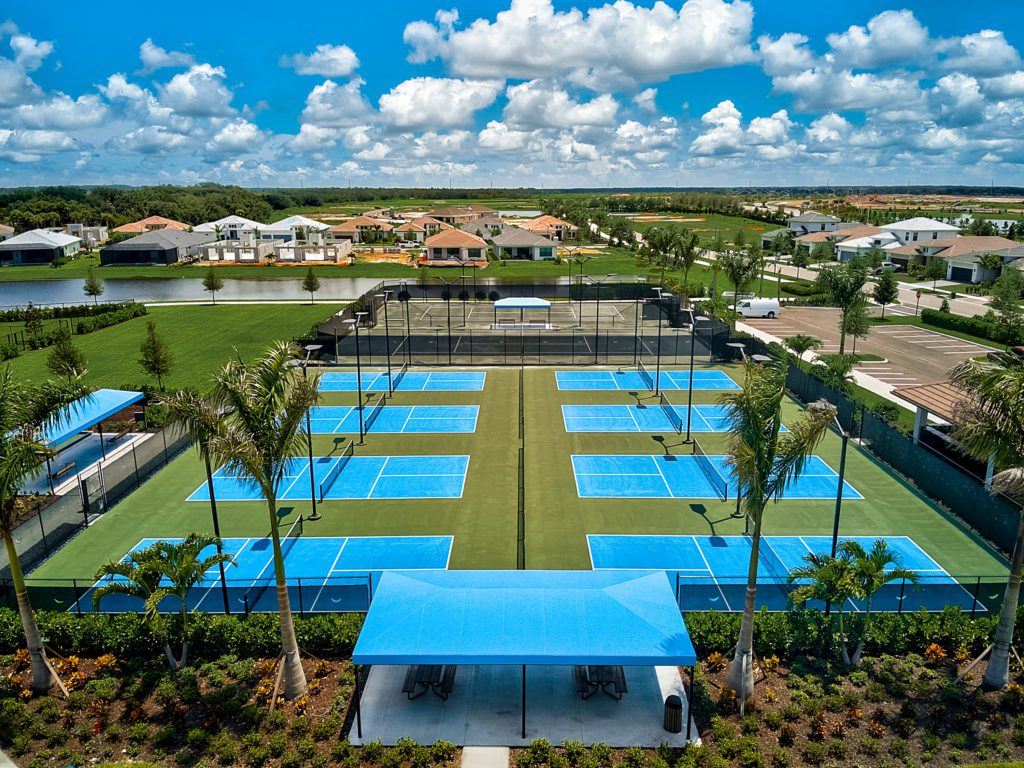 Racquet Sports at Cresswind
There are 6 pickleball courts and 2 HarTru tennis courts at Cresswind. The pickleball players are more active than the tennis people.
There is social play every day in the morning. There is also a women's group that plays weekly.
Occasionally, the pickleball group will bring in an instructor for a day of play.
Pools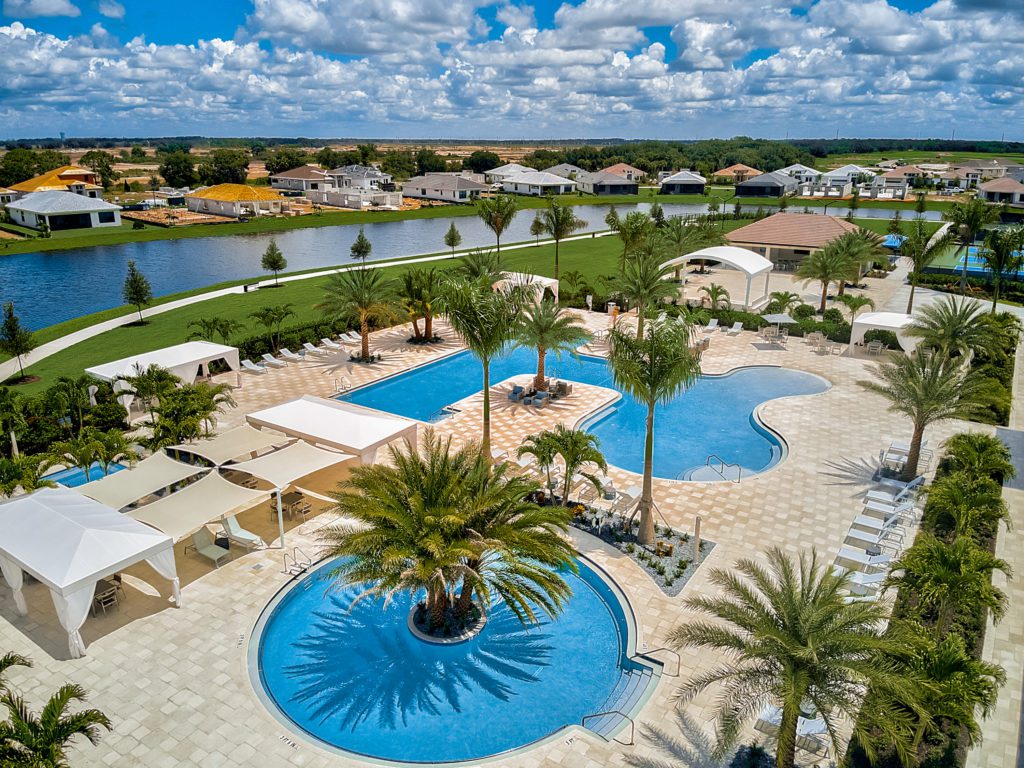 There are 2 pools at Cresswind. The main pool is a zero-entry and heated. Additionally, there designated area for lap swimming.
Adjacent to the main pool is a heated resistance pool. Currently, there is a resistance pool class too.
Resident Participation
The residents at Cresswind are actively involved in not only arts but group fitness classes.
In addition, new clubs are being formed as the community grows—clubs such as weekly poker, mahjong, book clubs, and wine.
This close-knit community collectively pitches in for their designated charities and celebrates after accomplishing goals.
---
🧘🏼‍♀️ Del Webb LWR
You may have already heard of Del Webb communities. This is a Pulte Homes division. Del Webb is geared towards active adults. It is age-restricted, meaning nobody under 45 can own in this community.
This Del Webb community has approximately 1260 homesites. There are a variety of housing options. You can choose from quads (4 units attached), paired villas, and single-family homes.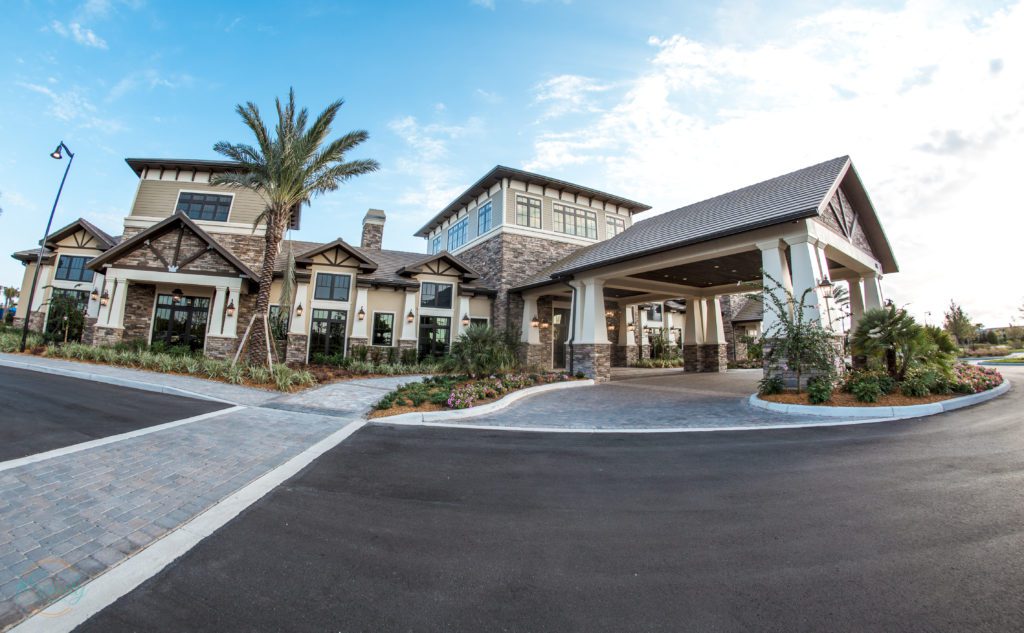 Restaurant in Del Webb
The neighborhood has a full-service restaurant and full bar.
There is indoor and outdoor dining.
The outdoor area has a beautiful view of the pool and a large lake area. There always seems to be a nice breeze there too.
The restaurant coordinates with Del Webb's lifestyle director to have special dinners, lady's night and 1/2 price wine night.
There is take out too. So, if you don't feel like cooking, you can always drive your golf cart to pick up dinner. Super easy!
Racquet Sports
Pickleball at Del Webb
Del Webb has an active pickleball group that plays every morning, including on weekends. You will also find a women's & men's group.
There are 6 lighted pickleball courts.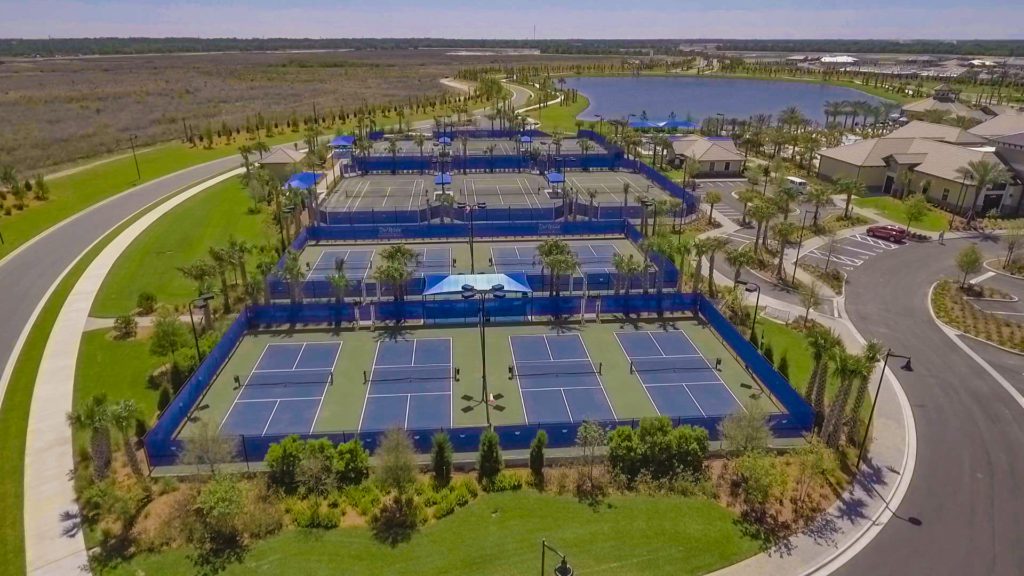 Every year the pickleball group gets together to celebrate with dinner & drinks.
They welcome any level of player and actually pair you with your correct skill level set.
Pools
Del Webb has two pools. The large resort-style pool is located adjacent to the clubhouse and restaurant.
This pool does have a zero entry and a section designated and marked for lap swim.
The second pool is a satellite pool located nearby the rear exit of the community.
Resident Participation
In this established neighborhood, there are various interest groups. For example, you will find a men's breakfast club, fishing, mahjong, poker, or kayaking.
There is also a Military group that organizes events and raises money for a variety of military-associated charities. This group was instrumental in getting a special, dedicated area with an American Flag and honoring those that have served.
Del Webb is a very cohesive community. The residents support each other, celebrate wins, and are there for you in times of need.
---
🏌🏽‍♂️ Esplanade at Azario
This is the latest Taylor Morrison golf course community in Lakewood Ranch. If you don't play golf, this builder is offering non-golf lots for single-family homes. However, all the villas (paired & free-standing) are golf lots.
There are no age restrictions for the neighborhood.
This neighborhood is being built now and has roughly 2 years of construction. So, you do have an opportunity to choose your design options. When finished, the community will be approximately 1550 homesites.
The main amenity center, Bahama Bar, and gym are currently under construction. Additional amenities such as the spa, culinary center and additional restaurant(s) will be finished at a later date.
Golf & Racquet Sports
Although this neighborhood is being constructed now, part of the amenities is completed. This includes the golf, tennis, and pickleball courts.
Golf
There is an 18-hole perfectly manicured course with beautiful scenic views. If you are an owner of a golf lot, you will just be paying for your cart fees.
You can participate in the reciprocal golf program and play on other Hampton Golf managed courses.
Tennis & Pickleball
Even though this is a newer community, you will find active pickleball and tennis groups. The groups play social and competitively with other neighborhoods in Lakewood Ranch.
---
🚣🏼‍♂️ Waterside Lakehouse Cove
Lakehouse Cove is a village located inside the Waterside neighborhood. With easy access to downtown Waterside, residents can enjoy everything available in their community as well as downtown Lakewood Ranch.
The three builders in this community are Homes by Towne, AR Homes by Arthur Rutenberg, and Lee Wetherington Homes.
This community inside Waterside has a total of 626 single-family homes. Moreover, some homesites are located on expansive lakes.
The lifestyle director plans events not just inside Lakehouse. Additionally, residents are treated to shopping trips, plays, and more.
Watersports & Kayaking
Something that is unique to Lakehouse Cove is access to large bodies of water. This community has a kayak launch, storage, and walking trails by the water.
For a perfect night out or perhaps a trip to the Farmer's Market, residents can be ferried to downtown Waterside.
Pickleball
There are two pickleball courts for Waterside Lakehouse Cove. You can start enjoying all the amenities the day you move in!
Residents have formed a social pickleball group and play several times a week.
Amenities
The pool has perfect views of the lake and offers a relaxing environment with private cabanas, shaded areas, and facilities.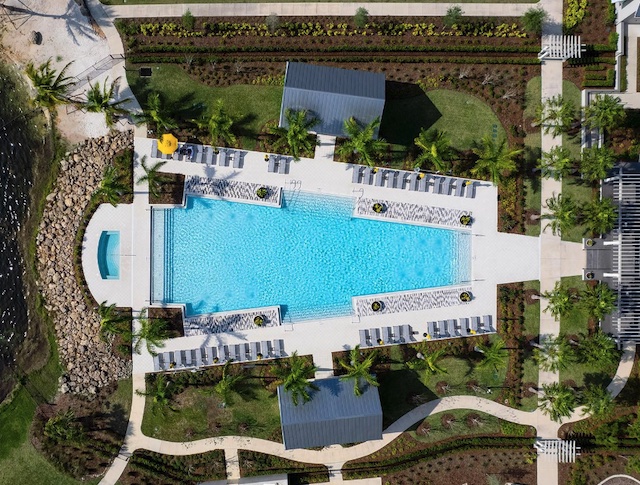 You will also find an event lawn for get-togethers, live music, and group yoga.
The clubhouse offers meeting rooms, a full kitchen, and a fitness center.
---
🏌🏼‍♀️The Lake Club
Tucked off of University Parkway is this exclusive community with custom luxury homes. This serene setting has a private, one-mile-long park.
Builders in the Lake Club include Stock Custom Homes and Stock Luxury Homes.
Building in at the Lake Club is still an option.
Amenities
This active community in Lakewood Ranch has a 20,000 sq ft clubhouse, spa & fitness center, and children's playground.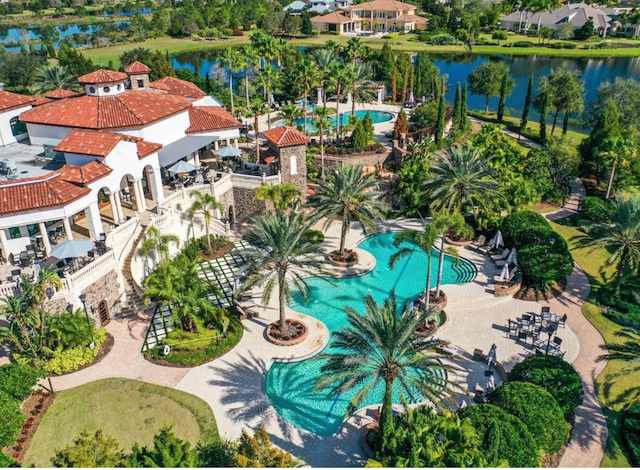 The clubhouse offers indoor & outdoor dining as well as a new bar area. Enjoy the expansive green spaces and meet new members.
Inside you will find an entire floor dedicated to health and wellness. The newly remodeled area includes an expanded fitness area, a yoga room and spa.
Concierge service is available to arrange additional activities or perhaps make dinner reservations for you.
Resident Participation
In addition, neighbors have formed groups such as wine tasting, card games, and billiards.
The full-time activity director plans new events every month.
---
🚴🏻‍♂️Lorraine Lakes
Lorraine Lakes is a Lennar Community in the heart of Lakewood Ranch. Like Cresswind, these two communities are just a block away from the new library.
The community is fairly new and you still have an opportunity to build.
There will be a total of 1362 homes.
Lorraine Lakes offers a variety of housing options. From townhomes and attached villas to single-family homes, square footage ranges from 1,417-3,945.
The amenities are in the construction process. When completed, this community will have the following:
*Clubhouse
*Outdoor Restaurant
*Splash pad
*Resort Style Pool
*Full Gym
*Tennis
*Pickleball
---
🏅Honorable Mention
The residents are active in a variety of sports, they mingle with each other and are always willing to meet new people.
Stop by the outdoor tiki bar on any given day and meet someone new.
Lakewood National
Although Lakewood National is known for its outstanding 18-hole championship golf courses, there is more than golf.
Every property owner is charged for golf. But don't let that deter you from looking here.
I owned a place here for years and loved it!
Amenities
The main clubhouse at Lakewood National has additional restaurants and gathering rooms. There are also special events such as wine tastings and cooking demonstrations.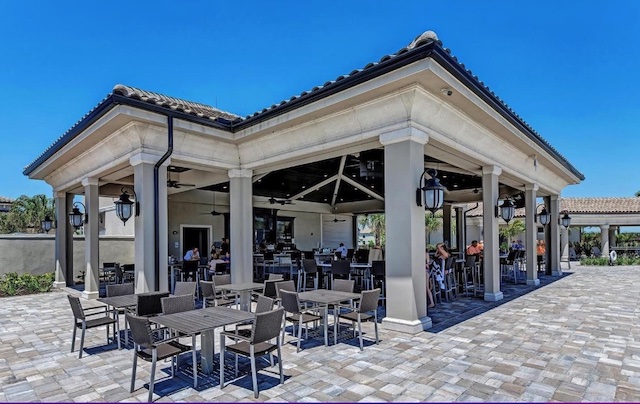 The smaller building adjacent to the clubhouse has the gym, spa, and group fitness activity rooms.
The fitness room is expansive and has a variety of cardio and weight training equipment. Personal trainers are available.
Racquet Sports
There is a full-service pro shop on-site to repair and restring racquets. You can also purchase other equipment.
Racquet Sports at Lakewood National are as popular as golf.
Tennis
Lakewood National has a wonderful tennis program. From social mixers, clinics, junior programs & more. There are various instructional programs available depending on your level.
You can also rent out a self-retrieving ball machine.
Additionally, during the summer months, there are extra activities for children.
Pickleball
Pickleball at Lakewood National is also very popular. There is open play daily from 8:30 AM-Noon. You can also find clinics for all levels of play.
The pickleball courts are tucked away across from the main clubhouse and have their own bathroom facilities.
Pools
Lakewood National has numerous pools throughout the community. The main pool can compete with any vacation resort around.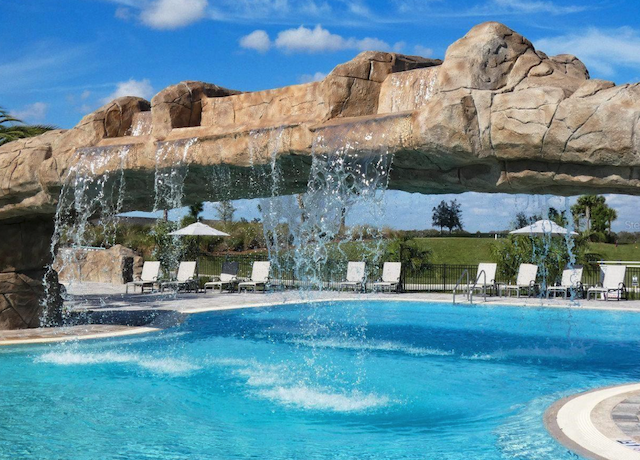 The pool is located by the large clubhouse and next to the outdoor bar. There are several areas for shaded relaxation and they do offer pool service.
Satellite Pools
Satellite Pools are located adjacent to groups on the Terrance condo buildings and Veranda condos. All have facilities including tables and shaded areas. These are gated and accessed only with an owner's fob. So, you don't have to go far to enjoy a refreshing swim.
Resident Participation
Although there is no lifestyle director, the HOA does organize events. I have seen BBQ, live music, and more.
Plus, the residents also organize events. A few examples I have seen, golf clubs, outdoor drinks on the driveway, and ladies groups.
---
🏆Top 9 Active Neighborhoods in Lakewood Ranch
Lakewood Ranch has a variety of active communities to choose from. When deciding where to live in Lakewood Ranch, consider your lifestyle and which neighborhoods are a good fit for you. Exploring the top 9 active communities in Lakewood Ranch will give you a jump start on your neighborhood search.
🙋🏼Where Should I Live in Lakewood Ranch?
Lakewood Ranch is home to over 19 different neighborhoods. Finding the neighborhood that is the perfect fit for you includes not only nearby conveniences but also what the community has to offer. Here are a couple of items to guide you in your search:
* Are the locations of schools important?
* Do you want an age-restricted neighborhood
*What type of home are you looking for (condo, villa, or single-family home)
*Is having a full-time activities director important?

🌴How Far is Lakewood Ranch to the Beaches?
*22 miles from Holmes Beach on Anna Maria Island
*LWR is 15.3 miles from Lido Key
*Lakewood Ranch is 22.3 miles from Longboat Key
*Lakewood Ranch is 18.3 miles from Siesta Key
❓Is Lakewood Ranch a 55+?
No, Lakewood Ranch is not an age-restricted community. However, two 55+ neighborhoods are located inside Lakewood Ranch. The first is Del Webb Lakewood Ranch. Del Webb has approx. 1260 homesites with a variety of housing options. The second is Cresswind Lakewood Ranch. Cresswind is a newer community; there will be 650 single-family homes when construction is completed. Both Del Webb and Cresswind are amenity-rich communities with full-time activity directors.
I have been in real estate sales for over 24 years. I am originally from the Midwest and have lived in beautiful Florida for over a decade. My career sales are over 2,300 homes sold. There aren't too many obstacles I haven't encountered throughout my work history. I provide you with honest advice backed by years of experience and understand that a real estate purchase or sale is your top priority.
Nationally recognized. Licensed FL Real Estate Instructor. Contact me at Sandy@SandyWilliams.com or call 941-564-9491

Summary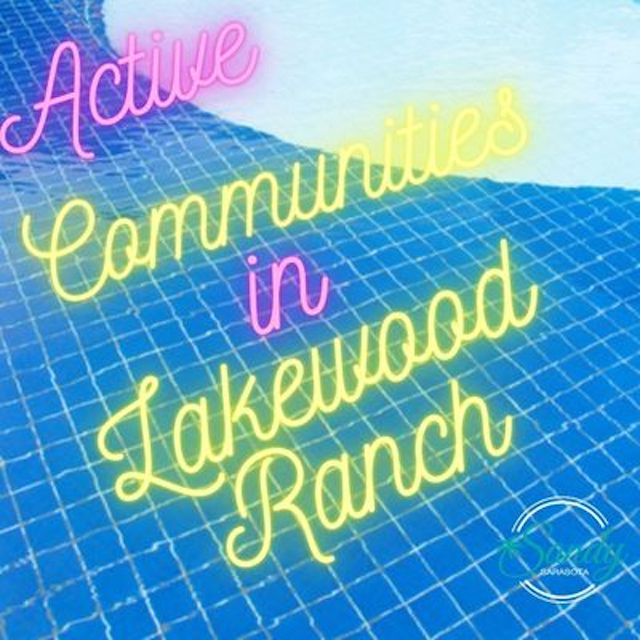 Article Name
Top 9 Active Communities in Lakewood Ranch
Description
Explore the top 9 active communities located in Lakewood Ranch. Learn about the amenities, golf and racquet sports.
Author
Publisher Name
Publisher Logo