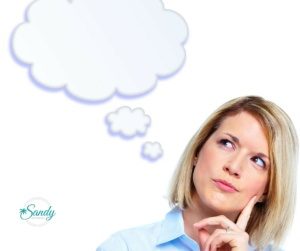 Looking for fun things to do in Bradenton FL?
If you are already here, you know about the beautiful waterways around the city between Tampa and Sarasota.
As well as the vast boating activities you can enjoy with over a 20-mile waterway stretch between Tampa Bay and the Gulf of Mexico.
Aside from Bradenton's fabulous beaches what else is there to do in Bradenton? Hopefully, I have found a few things you didn't know you could do in Bradenton and Lakewood Ranch.
See the Best Takeout Restaurants in Bradenton Here
🍷

Did you know that Bradenton has a winery?
At Rosa Fiorelli Winery & Vineyard, 4250 County Road 675, Bradenton, FL 34211. This winery is the only grape winery and vineyard on the gulf coast of Southwestern Florida. They offer a variety of tours throughout the year, and group and private tours are also available. The winery also hosts special events, like Wine & Dine in the Vines. Something is always going on, so check out their website for details.
🍻Brew Pubs & Distilleries in Bradenton
*See a List of Discounts for Food & Drink Here*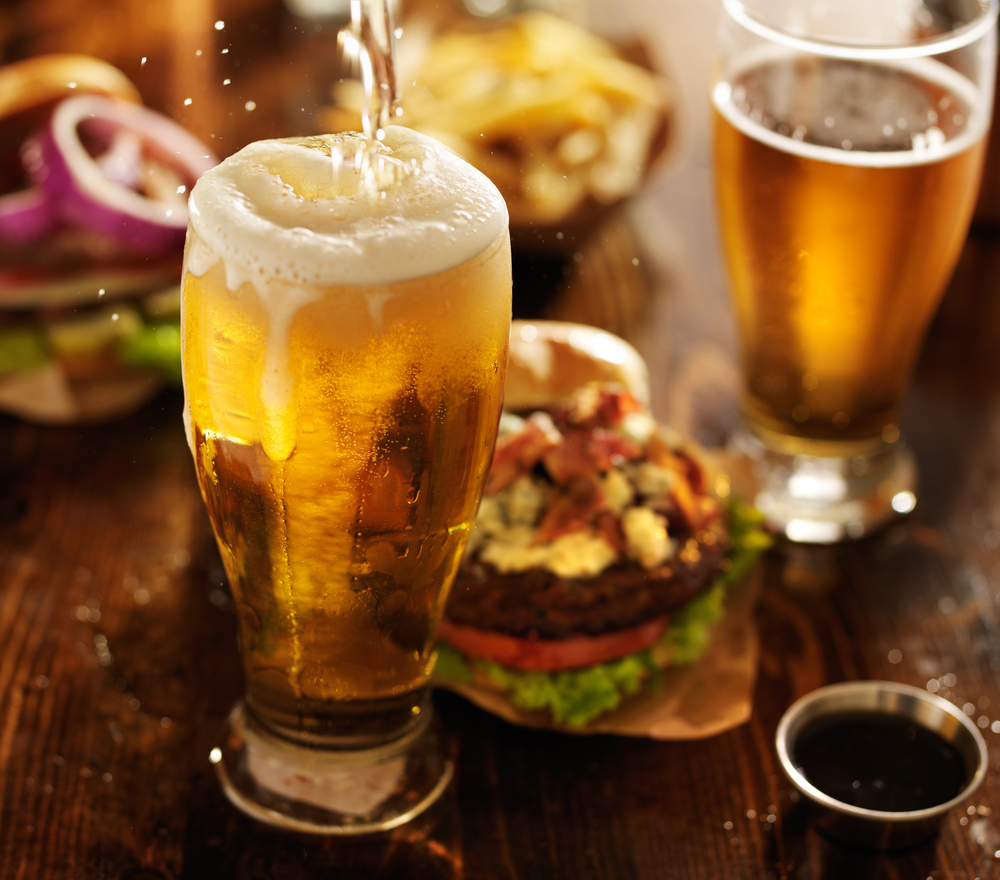 The Bradenton area has been overflowing with new brewpubs. Not every place has food options, however, many have food truck night and other offerings.
Darwin Brewing Company, 803 17th Ave West, Bradenton. These Brewmasters studied in Germany and are world-renowned for their beers. On the first Mondays of every month, Darwin offers a 3-course dinner paired with their beers. New stuff is brewing…from festivals to Tapas and Taps. Locally owned.
Motorworks Brewing, 1014 9th Street West, Bradenton. Motorworks has the largest Florida outdoor beer garden, complete with a large shaded deck and 22 ft projection screen. The taproom has over 30 craft brews on tap, as well as a full-service bar. Motorworks doesn't have a restaurant but they do partner with food trucks and local restaurants. Although they do not cook there, it still has the restaurant experience because servers take orders and deliver the food to your table. Motorworks has live music and other events including tours of the brewery.
Good Liquid Brewing, 4824 14th St West, Bradenton. This is just a few short miles away from Anna Maria Island. I was here recently and have to tell you that not only is the beer great, but come hungry! They have a good menu and my personal favorite is the fried cauliflower.
Naughty Monk Brewery, 2507 Lakewood Ranch Blvd, Lakewood Ranch (next to the Ace Hardware). Although Naughty Monk does not have a full-service restaurant, they do offer food truck events and serve light bites. They also offer menus to local restaurants that will deliver. Anyway, the beer is the highlight here. This is a casual, fun local hangout that has live music on the weekend. If it is available, try the "I Don't Care" beer. It is one of my favorites.
Loaded Cannon Distillery, 3115 Lakewood Ranch Blvd, Lakewood Ranch (nearby the Naughty Monk). I am beginning to think you could do a booze cruise and never leave Lakewood Ranch! The Loaded Cannon Distillery offers tours, mixology classes, and has a nice tasting room! Vodka, Gin, or Rum, whatever your preference they have it. Loaded Cannon also tries to source locally, so you are not only enjoying a unique experience but also giving back to the community! *See Groupon Discount Here*

---
☔️Bradenton/Sarasota Rainy Day Activities
Rainy day activities in Bradenton or Sarasota can be fun too! Sometimes it rains in the sunshine state. But that doesn't mean you have to have the rainy day blues. Check out these fun things to do in Bradenton or Sarasota on rainy days.
Jumpin Fun Inflata Park: 7321 Trade Court, Sarasota FL, 941-388-JUMP. This facility is open 7 days a week. This fun zone has over 20 different attractions to choose from. Whether you want to try the moon bounce, the summit rock climb or the wipe-out balls, you won't be bored this rainy day.
If you go to their website (highlighted above) you can save time by filling out your info and getting your tickets online. That way, when you get there, you can get the fun started ASAP.
Ice Skate at Ellenton Ice Rink: 5309 29th St East, Ellenton FL, 941-732-3663. Even though it may be hot outside, you can still ice skate indoors.
If you don't have ice skates, no worries! You can rent them there. Ellenton ice rink has public skating. On Saturday evenings from 8 PM to 10 PM you can skate to DJ music. No matter what your skill level is, you are welcome to skate at any of the public times.
Skyzone Trampoline: 6180 Edgelake Drive, Sarasota, FL, 941-363-6359. Check out the new attraction, VR (Virtual Reality) and transform your own video game character & play in 360-degree worlds. Or if you crave more adventure try the Zip Line course. There are over 18 attractions to have fun with.
Mote Marine & Aquarium: 1600 Ken Thompson Pkwy, Sarasota FL, 941-388-4441. Open every day from 9:30 AM – 5 PM. Something is always going on at the Mote. The exhibits change frequently and there are also kid family programs and other adventures.
The Ringling: 5401 Bayshore Road, Sarasota FL, 941-359-5700. Open daily from 10 AM -5 PM. You could spend an entire day at the Ringling and still not see everything there is to offer here. So, if it rains more than 1 day while you are here, consider going back for another visit.
If you have limited time and want to see how a circus functions behind the scenes, then you will not want to miss the Circus Museum. One of the highlights of that museum is the miniature circus model.
You can take a break mid-day and stop for lunch. The Ringling has a wonderful restaurant, a food truck, and a new concessions facility (located nearby Ca' d'Zan).
---
🍝Food and Walking Tours
You Might Be Interested in the article: Best Breakfasts in Sarasota & Bradenton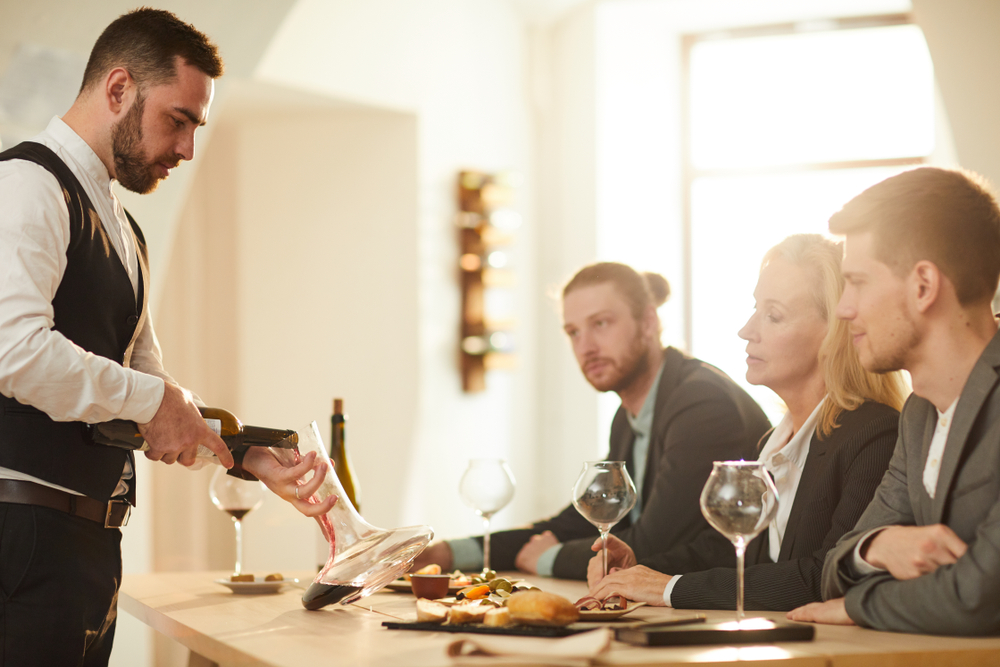 What a fun way to learn about new restaurants, and the area and meet new people!
I try to take a history tour, food tour or some kind of wine/booze walk around when I travel.
Not only do I get to talk to a local but I have met some pretty cool people from other parts of the world that I still stay in contact with.
There is something about food and wine that bring people together regardless of where you are from.
Downtown Walking Food Tour: I took this tour (link pictured below) a couple of years ago when I first moved to the Bradenton/Sarasota area. Not only did I have some great meals and cocktails but I learned a few things about how Sarasota was developed. I also saw some great street art and was introduced to a few urban neighborhoods. If you have time, this is a great tour.
Twilight Evening Walking Drink Tour: This small group tour meets in downtown Sarasota and gives you a glimpse into Sarasota nightlife and craft cocktail bars.
Not only will you get a chance to partake in award-winning mixology but hear some history of Sarasota and catch one of our spectacular sunsets!
If you are looking for something fun and different to do in the evening, then you will want to check out this event.
🚴🏼‍♀️Sunset Bike Ride Siesta Key
The tour company uses electric bikes, so if you can ride a bike you definitely can do this! The electric bikes are easy to handle and allow you to control how much effort you put into riding the bike.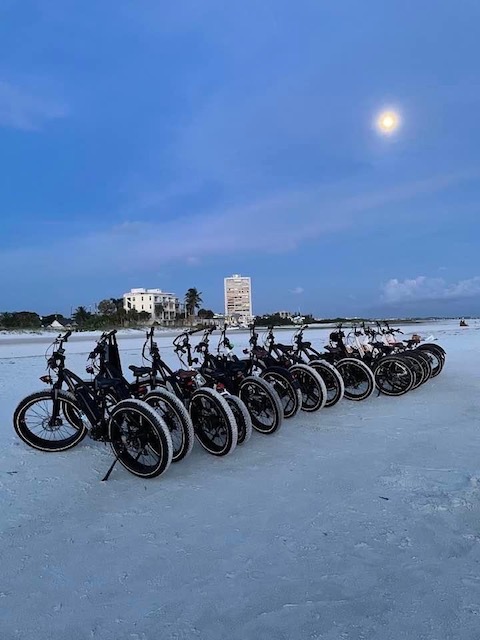 Siesta Key has a nice wide, sand-packed beach which is perfect for this experience.
My husband and I recently took the Siesta Key Electric Bike Sunset Tour. Although I live here I saw the beach from a different perspective.
The breeze and the beautiful water paired with a fabulous sunset were a perfect way to spend an evening. I truly felt like a kid again!
When it's time to celebrate the sunset, the guides top it off with a toast of champagne.
There's plenty of time for photos and they take breaks frequently.
If there is just one thing you have time for, you seriously should consider this.
---
💃🏻Let's Go Dance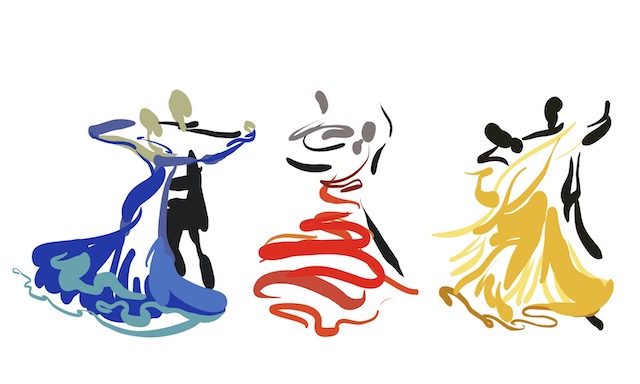 Did you know that there is a dance studio here in Lakewood Ranch that is home to world championship dancers? Yes! Right here in Lakewood Ranch.
No pressure though! These champion dance coaches can take even someone like me, who has never danced before and teach them basic skills in one visit.
The environment and their teaching methods make it not only easy but fun to learn.
Fred Astaire Dance Studio at Lakewood Ranch is located just off of St. Rd 70 and Lorraine Rd in Lakewood Ranch.
The Fred Astaire Dance studio in Lakewood Ranch is such an energetic place, and there is always something going on.
Whether you are here for a week or maybe a few months, if you are looking for something fun, different, and healthy to do, check them out.
The studio is very welcoming, the dance coaches are fun to work with and you can choose what type of dance(s) you would like to learn. They also have free evening events so that you can bring your family and friends too.
I personally decided on Salsa and a few other "get your heart moving" dances.
All ages are welcome!
---
🏃🏻‍♂️Outdoor Activities in Bradenton
Try Sky Zone Trampoline Park, 6180 Edgelake Drive, Sarasota: This is considered to be the world's first indoor trampoline park. Looking for a workout as well as fun? Check out the fitness activities such as Skyfit and Wingman Wednesdays. There is something here for the young and the young at heart!
See the article: Living in Sarasota vs Naples
TreeUmph, 21805 State Rd 70 East, Bradenton: Ziplining in Florida? Yes! But this is not just zip line courses, but hanging nets, wobbly bridges, and Tarzan Ropes.
Set in an expansive park over 10 football fields in size, TreeUmph! Adventure Course is your destination for high-flying, obstacle-defying fun! Or, if you feel like high-flying…visit or book your fun at TreeUmph!
There are children's and adult courses. TreeUmph supplies all the safety gear and fun!
Since this is a popular destination that requires instruction, you may want to book a timeslot using the links above.
Robinson Preserve: The main entrance: 1704 99th st, Bradenton Fl 34209. Park hours vary by season. During the summer months, the park is open basically from dawn to dusk. Similar in the winter too. Admission is free.
Robinson Preserve is a 682-acre coastal preserve located nearby Anna Maria Island, just to the north before you get across the causeway. You will find walking trails, bike paths, and areas to kayak and paddleboard.
If you like to fish, there are plenty of bridges and onshore spots to do that too. You will also find shaded park benches, picnic areas, and bathrooms.
Manatee County's Park Department offers things to do at Robinson Preserve throughout the year. Use the link above to get the monthly calendar.
De Soto National Park: 8300 De Soto Memorial Hwy, Bradenton, FL 34209. Operating Hours are 9 AM-5 PM. This is part of the United States National Park Service. Admission is free.
De Soto park just happens to be my favorite park in Manatee County. Why? It is located on the Manatee River and normally you will have a beautiful view with a gentle breeze, even on a hot summer day.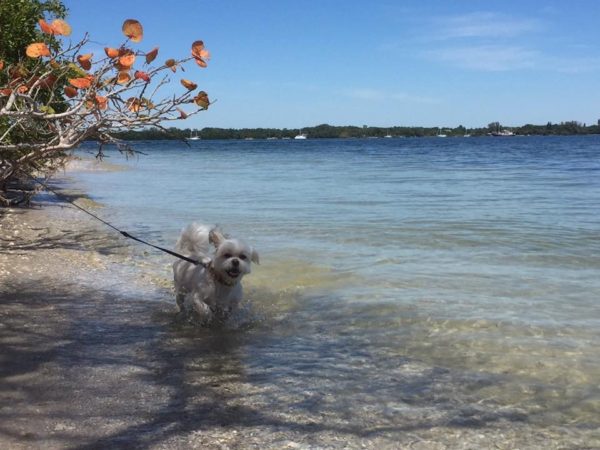 This dog-friendly park has shaded, sandy soft walking paths. You will also find winding paths (some are walking bridges) that take you over mangroves and protected areas.
There are also several shallow, sandy beach areas perfect for you and your dog.
I have met so many nice people who decided to drop anchor and take a dip.
You will also find picnic areas, bathrooms and several park benches to stop and enjoy the beautiful views.
You will also find things to do inside the park. Regardless of the time of year, this park offers fishing clinics, Ranger-led kayak tours, and additional children's activities.
---
⛳️Miniature Golf in Bradenton
Golf among the alligators at Smuggler Cove Mini Golf, 2000 Cortez Rd W, Bradenton: Voted best mini golf in Florida for the past five years. This is an 18-hole adventure course that will lead you to waterfalls, caves, pirate ships, and even live alligators.
You May Be Interested in the Article: Dog-Friendly Restaurants in Bradenton & Sarasota
[su_divider divider_color="#45f0cc"]
---
🐾Dog Parks in Bradenton Area
See Pet-Friendly Condos for Sale Here
Bradenton has some great dog parks. GT Bray Park, 5502 33 Ave Dr. West, Bradenton: Happy Trails Canine Park, located in the northeast corner of the park of GT Bray. There are 3 acres for Fido to run around and there is also an exclusive fenced area for older dogs, small dogs or maybe if your dog is like mine, dogs that are scared of other dogs! Doggie drinking fountains and free waste bags are available.
You might Like the Article: Best Dog Parks in Sarasota & Bradenton
De Soto National Memorial Beach, 8300 DeSoto Memorial Hwy, Bradenton: Dog-friendly beach, as long as they are on a leash. I am not sure who likes this place more, my dog or myself. You will find beautiful views of Tampa Bay, shaded trails, and several wonderful, quiet spots to sit and read a book. My dog loves it there too.
See the Article: Things to Do in Sarasota
[su_divider divider_color="#45f0cc"]
🏞Parks and Walking Trails
Mixon Fruit Farms, 2525 27th Street East, Bradenton: You can not only get great citrus products but also a tour of the orange grove, which includes a wildlife refuge.
Injured birds, reptiles, and various animals are brought here on a rescue basis with the intent of returning them back to their natural habitat. When you are there, make sure to visit their gift shop and Groveside Cafe where you can enjoy their orange swirl ice cream and other homemade citrus products.
Palma Sola Botanical Park, 75th and 17th Ave., Bradenton: Admission is free. Leashed dogs are welcome. This 10-acre site is home to exotic fruit and nut trees. The garden is exquisitely decorated with flowers and well maintained with shell walking paths and shaded areas for just enjoying the tranquil atmosphere.
Robinson Nature Reserve, 1709 99th St NW, Bradenton: This preserve is 487 acres and offers hiking and biking trails, a kayak launch, and an observation tower. You can kayak through to Tampa Bay. Leashed dogs are welcome. When you are there, go up to the observation tower. You can get a great view of Tampa Bay. Fishing is allowed on the bridges.

---
👨🏼‍🎨Art & Art Walks

in Bradenton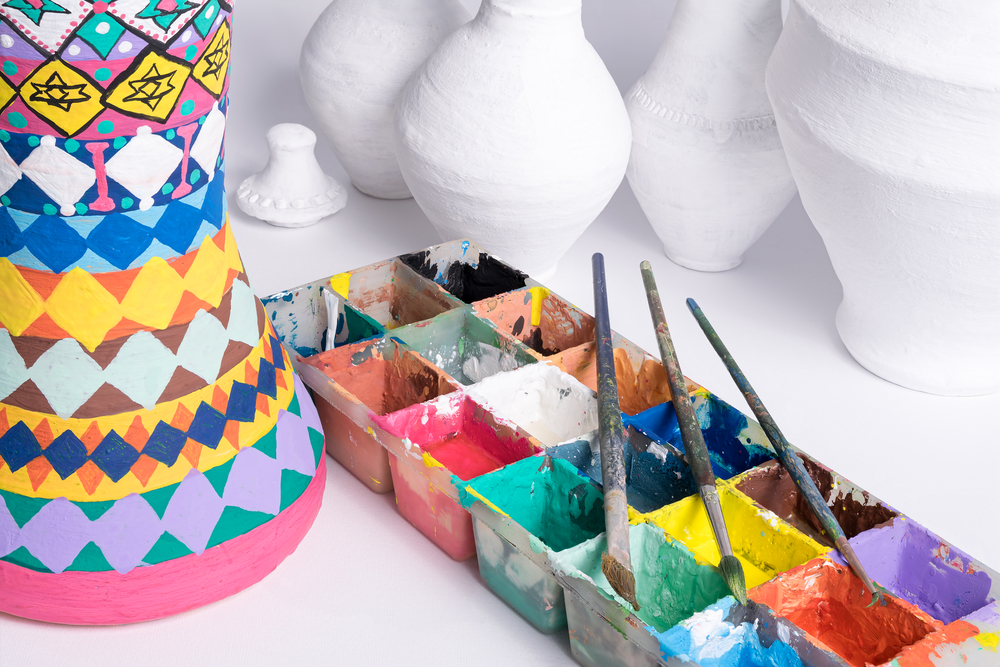 The Village of the Arts, 1113 12th St West, Bradenton: From specialty shops, healing arts, and bakeries, this is your place for all things unique. Be sure to attend the monthly art walks held on the first Friday and Saturday of every month.
Art Center Manatee, 209 9th Street West, Bradenton: Voted People's Choice in 2015 is a premiere center for art education. Local artists sell their creations in the gift shop which is filled with photographs, glass sculptures, jewelry, and pottery. If you are looking for a unique gift, go here first. The art center offers various workshops and classes for all ages.
Pinot Picasso, 1304 6th Ave West, Bradenton: For that budding artist in all of us. What goes better with learning how to paint than wine? This interactive art studio is perfect for a girl's night out and learning a thing or two about how to create art by the experts themselves. You can have delicious appetizers or snacks while enjoying the painting work with a group of friends or family. Their calendar changes and some classes are kid-friendly.
Arts A Blaze, 8111 Lakewood Ranch Main Street, 941-306-5840. This just happens to be owned by a friend of mine, who likes wine…so bring a bottle and a few friends and have a great time!
Arts A Blaze also does children's events and birthday parties. I personally like the event of decorating a wine glass, but hey there is something here for everyone. Great location, in the heart of downtown Lakewood Ranch. Something fun is always going on here at Arts A Blaze. Check out their website for more info.
---
☀️Anna Maria Island
Anna Maria Island has so many things to offer from its sparkling water and fine sand beaches to great dining and entertainment. There is a public trolley that goes up and down the island with plenty of stops in between that allow you to hop off and catch a bit of fun. So, leave your car behind and run on island time.
Beaches in Bradenton
Bradenton Beach, Anna Maria Island: If flat, wide, soft sand beaches are your desire, then this is your place. This is a public beach and it fills up quickly in the winter months. Parking is alongside the beach. Go early on the weekends to get a spot.
Beer Can Island Beach, Longboat Key: Located at the northern tip of Longboat Key, this is a secluded stretch of shallow beach, perfect for shelling. You can walk the island at low tide.
Manatee Beach, Located at the west end of Manatee Ave in Holmes Beach, Manatee Beach has public access and is one of the busiest beaches on the island. There are public bathrooms, picnic tables, grills, and a large covered pavilion that serves breakfast and lunch. In addition to food, there is a limited bar that serves alcoholic beverages.
During the winter months, you can enjoy live music on the weekends. Breakfast early in the morning is a must at least once while you are on the island.
There is nothing better than sitting by the sea, with a cool breeze and a cup of coffee. There is public parking at this beach, however, it does fill up fast. If you are staying on Anna Maria Island, take the trolley. It stops there throughout the day. Manatee Beach also has a small gift shop that sells ice cream and small water floats.
Coquina Beach Gulf Side, Located at the south edge of Anna Maria Island. There is a large open lot for parking. The trolley does stop at this beach too. Public restrooms, changing facilities, picnic tables and large pavilions are available to rent for getting together. Coquina Beach also has a snack bar, grills and gift shop. This is one of the largest beaches available to the public. You can access Coquina Beach from Longboat Key as well.
---
🐬Snorkeling, Manatees & Boat Tours
See the Manatees & Dolphins, Blackburn Point Park, 421 Blackburn Point Rd, Osprey. This easy, 2-hour kayaking tour is the perfect time to enjoy being on the water and seeing manatees and dolphins.
The first time I saw a manatee from my kayak was such an awesome sight. So big, yet so gentle! Everything is provided for you (kayaks, paddle & life vest). Just come ready to enjoy the calm waters and see why we Floridians love this place!
Coastline Dolphin & Snorkeling Excursions, 12160 Cortez Rd W, Bradenton Boat Club, Bradenton: 2 and 3 hours excursions available with dolphin and manatee sightings. Snorkeling equipment included.
Dolphin Sightseeing and Tiki Bar Tour: This is a private tour! If you are not a group of 6, give them a call and see if someone or a smaller group is waiting to fill the boat.
Spend some time on the water and enjoy all that Florida has to offer. What would your vacation or staycation be like without a boat ride? See wildlife, take in some sunshine and stop for a lite bite and perhaps a cocktail too.
Choose to sunbathe, swim or watch for wildlife.
Snacks and beverages will be provided on the boat.
Kayak Tours
I will never forget the time I was kayaking over a sandbar in Sarasota and a manatee swam right by me! Wow!! This girl from Indiana was forever hooked on kayaking.
There are so many beautiful places to kayak in this area. I cannot imagine being here and not taking advantage of the water.
If you are not experienced in kayaking, no worries, these guided tours are in shallow, calm waters.
🛶Boat, Jet Ski Rentals and Paddle Sports
Want to rent a jet ski or a boat? Try Wave Splash Water Sports, 102 Bridge Street, Bradenton Beach: Rent jet skis, go parasailing, or just rent a boat. Wave Water Splash offers several packages. Open 7 days a week.
Bradenton Beach Marina, 941-778-2288, This marina is a full-service marina and also has a boat club as well as daily rentals. Choose from a wide selection of rental boats for a half or full day. You can also rent jet skis, parasail, or take a dolphin or sunset cruise.
---
🛍Shopping in Anna Maria Island
Anna Maria Island is sprinkled with boutique shops that offer a variety of treasures to take home. There are several little villages that make up most of the shopping, but you will also find shops along Gulf Drive as well.
Pine Ave Shops: This little village offers something for everyone, including an art gallery, doggie spa, and donut shop. Your trip isn't complete without a specialty donut.
The donuts are made fresh while you wait, all you have to do is select your decadent toppings and enjoy. The donut shop is only open in the morning so come early, there is always a line during the season. Pine Avenue also features great restaurants. After lunch or dinner, take a short walk to the beach or the City Pier and get a look at the Tampa Bay Bridge.
Bridge Street: Located in the center of the island in Bradenton Beach, Bridge Street is the heart of the island. At any time, you can catch live music, enjoy a fine dinner, and shop. Bridge Street's motto is Dine-Shop-Play. Go and you won't be disappointed. On Sundays, check out the outdoor open market, starting at 10:00 AM.
Holmes Beach: Holmes Beach is the hub of major commercial shopping including a Publix grocery store, Walgreens, and CVS pharmacies. You will also find a small Ace Hardware and other necessity shops along East Bay Drive (corner of East Bay Dr & Manatee). If you follow East Bay Drive north, the road then becomes Marina Drive. You will find another plaza known as Tidemark Shoppes. Tidemark Shoppes has a variety of gift shops and great restaurants too.
[su_divider divider_color="#45f0cc"]
👨🏼‍🍳Restaurants in Bradenton & Lakewood Ranch
Well, restaurants are not really a thing to do in Bradenton, but there sure are a few good ones worth checking out. A good meal can be an event all by itself.
Habanero's Mexican Grill, 5120 Manatee Ave West, a few miles off of Anna Maria Island. This is a small restaurant with great food at affordable prices. One of my favorite! They have a full bar and happy hour too. They serve a killer margarita.
Food Truck Rally-Lakewood Ranch 4 PM-8 PM, January to the end of February: This is located at the Sarasota Polo Club. Food trucks and cocktails, concerts, and cornhole! I can't think of a better way to spend a winter evening than having fun with friends and family. There will be something for every age group. So, if you are here for just the winter with visitors, come by and have some fun!
The Waterfront Restaurant, Anna Maria Island: This place has history! Located in an old home that has been renovated with a craft bar, this restaurant not only has charm but a view to die for. At the north end of Anna Maria Island, you can look out onto the bay and see the Tampa Bay Bridge on a clear night. Extensive menu and wonderful specials. Outdoor dining is available on a first-come basis. Indoor seating does take reservations.
Old Hamburg Schnitzelhaus, Holmes Beach, Anna Maria Island. If you are looking for something other than seafood, then you have to come here and bring your appetite. Great, authentic German food and even better beer. Save room for dessert because their Black Forest Cake with Cherry Schnapps is to die for! *Only open for Dinner* This place is popular, you may want to call or make reservations.
Pier 22, 1200,1st Ave West, Bradenton: You couldn't miss eating by the water if you are in Bradenton. Located along the Manatee River, this relaxed atmosphere lets you enjoy the vast menu of sushi and seafood. A great happy hour too.
Bradenton has plenty of things to do and new events happening daily. The weather is great and its always a pleasure to enjoy a slice of paradise.
View all Bradenton FL real estate today at https://sarasotasandy.com See all the properties available in the Bradenton/Sarasota MLS or call 941-564-9491 to Buy or Sell a House in Bradenton, Sarasota or Anna Maria Island.
I have been in real estate sales for over 24 years. I am originally from the Midwest and have lived in beautiful Florida for over a decade. My career sales are over 2,300 homes sold. There aren't too many obstacles I haven't encountered throughout my work history. I provide you with honest advice backed by years of experience and understand that a real estate purchase or sale is your top priority.
Nationally recognized. Licensed FL Real Estate Instructor. Contact me at Sandy@SandyWilliams.com or call 941-564-9491

Summary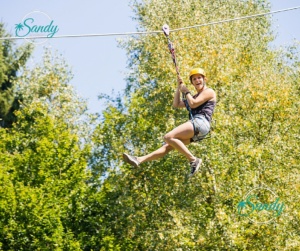 Article Name
30 Fun Things to Do In Bradenton
Description
Get detailed information on things to do in Bradenton. See indoor and outdoor activities in Bradenton, FL
Author
Publisher Name
Publisher Logo