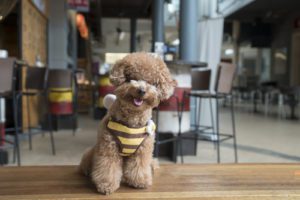 You can definitely say that Sarasota and Bradenton are dog-friendly cities! Now, you don't have to leave your four-legged friend behind to get a great meal.
Your best friend is welcome at many of our great restaurants in Sarasota and the Bradenton area. Whether you are looking for a waterside restaurant or just a place to hang with your pooch, there is something here for everyone.
The restaurant scene in the Sarasota and Bradenton areas are gaining national attention for their chef-owned establishments and brewpubs. So, if you haven't taken your best friend out for dinner or dined at one of the great eating places, you are going to have to check out one of these dog-friendly restaurants soon!
Sarasota Restaurants
Old Salty Dog (5023 Ocean Blvd / (941) 349-0158/ theoldsaltydog.com) Looking for a wonderful water view and great seafood? If so, then you can't miss this local watering hole which sports a menu full of seafood-inspired dishes. Not only do they have a nice selection of seafood dishes, but they are also famous for their beer-battered dipped, deep-fried hot dogs, which will surely leave anyone satisfied. Even your dog won't go home hungry. Water and dog biscuits are provided.
You May Be Interested in the article: 22 Fun Things to Do in Bradenton
Cafe L'Europe (431 St. Armands Circle, Sarasota / (941) 388-4415 / cafeleurope.net), an iconic local eatery known for its elegant European cuisine, extravagant wines, and superb service. Still looking for the outdoor experience? You'll find one here! Café L'Europe even has an air-conditioned open patio that is perfect for any pet-owner to relax with their best buddy.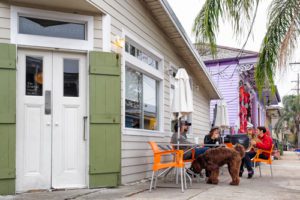 Selva (1345 Main St., Sarasota / (941) 362-4427 / selvagrill.com) This waterside Peruvian restaurant has earned rave reviews worldwide, including the New York Times. If you're looking for an innovative seafood menu, you will find it here. Selva has an outdoor patio that has wonderful water views and is dog-friendly too.
Owens Fish Camp (516 Burns Lane, Sarasota / (941) 951-6936 / owensfishcamp.com) If you are looking for a great seafood restaurant, then look no further than Owens Fish Camp. The outdoor dining here is great for you and your dog! They have a beautiful patio perfect for any pet-friend, and they have the best bourbon pecan pie in all of Florida.
Cafe in the Park (2010 Adams Lane, Sarasota / (941) 361-3032 / cafeinthepark.org) earns its number six spot due to its prime location and beautiful views of Payne Park and downtown Sarasota. It's an urban terrace cafe that specializes in sandwiches and coffee. Sporting indoor and outdoor seating, Cafe in the Park is perfect for any pet-owner looking for a bite to eat after visiting the park. They even have doggy ice cream and bones to keep any canine entertained and happy for hours.
Apollonia Mediterranean Grill (8235 Cooper Creek Blvd). Spacious & covered outdoor dining, perfect for bringing your dog. This is one of my favorites. Lots of parking and easy to get to. Check out their daily specials on their website.
El Toro Bravo (2720 Sticky Point Road, Sarasota / (941) 924-0006 / eltorobravosarasota.com) is up next sporting delicious Mexican dishes such as nachos supreme, ranchero chicken taco salad, and sumptuous chimichangas. This upscale Mexican restaurant has plenty of outdoor seating for any animal friends as well.

The Toasted Mango Cafe (430 North Tamiami Trail, Sarasota / (941) 388-7728 / toastedmangocafe.com) is a Sarasota staple that earns its spot on the list due to its unique mango-inspired dishes. This cafe has a beautifully quaint garden patio that is perfect for any pet owner. They deliver wholesome organic food quickly in a cheerful environment. The Toasted Mango is definitely a go-to restaurant for anyone looking for some great food and friendly conversation.
Cha Cha Coconuts (417 Saint. Armando Circle, Sarasota / (941) 388-3300 / chacha-coconuts.com), a uniquely Floribbean restaurant that serves up such goodies as "Voodoo Ribs" and "Yucatan Fish Tacos". They have a gorgeous outdoor patio and an endless supply of ice-water and biscuits that any four-legged animal is sure to enjoy. ChaCha Coconuts is casual dining at its finest.
Village Cafe (5133 Ocean Blvd, Siesta Key / (941) 349-2822 / villagecafeonsiesta.com/index.htm), If you haven't had breakfast in Siesta Key Village, you are going to want to try the Village Café. It's a quiet tropical eatery known for its generous portions and comfort food. Outdoor dining is available for you and your dog. What a wonderful way to start your day.
Dog-Friendly Restaurants in Bradenton
Sage Biscuit (6656 Cortez Road West, Bradenton / (941) 792-3970) Open for breakfast and lunch. Sage biscuit is tucked away in a strip center next to alongside Anna Maria Oyster Bar.
Sage is known for its organic, some gluten-free items, and overall unique menu. You can still get a great stack of pancakes or waffles. Sage has a small shaded patio that allows for you and your pet to have a healthy breakfast or lunch. This is a popular establishment and reservations are recommended.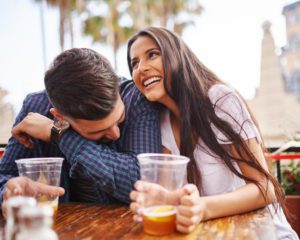 Motorworks Brewery (1014 9th St. West, Bradenton/ (941) 567-6218/ motorworksbrewing.com) Enjoy the outdoor beer garden with your dog and a great beer from Motorworks. The beer garden includes a massive deck built around an old oak tree, which is perfect shading for your pet. Enjoy live music or play a game of cornhole. Motorworks partners with local restaurants and food trucks for a truly unique experience and variety.
Mattison's City Grille Riverside (101 Riverfront Blvd., Bradenton /(941) 748-8087/Mattisons.com) This casual outdoor dining establishment allows you to have the best of both worlds, good food, and your pet too. Located along the Bradenton River, this restaurant offers an expansive 150 seat patio area complete with live entertainment. Indoor seating is also available. However, pets are limited to outside.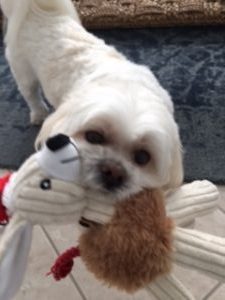 My best buddy loves to go for car rides frankly, I don't know a dog who doesn't. These dog-friendly restaurants in Sarasota and Bradenton are sure to please the best dog lover around!
I have been in real estate sales for over 24 years. I am originally from the Midwest and have lived in beautiful Florida for over a decade. My career sales are over 2,300 homes sold. There aren't too many obstacles I haven't encountered throughout my work history. I provide you with honest advice backed by years of experience and understand that a real estate purchase or sale is your top priority.
Nationally recognized. Licensed FL Real Estate Instructor. Contact me at Sandy@SandyWilliams.com or call 941-564-9491

Summary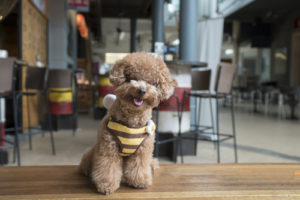 Article Name
Dog Friendly Restaurants in Sarasota and Bradenton
Description
Updated for 2018. Get the latest list of dog-friendly restaurants and bars in the Sarasota and Bradenton FL area. The detailed description of restaurants, locations and website info too.
Author
Publisher Name
Publisher Logo