The Palm Beach floor plan at Cresswind Lakewood Ranch is a popular model in the Coastal Collection Series.
When I started my new construction home search in Lakewood Ranch, I knew I wanted to be in a 55+ community. In addition, I wanted a home that gave me privacy yet provided an open floor plan.
Learn More About Cresswind Lakewood Ranch Here
At the time, Cresswind was a newer community, and Kolter, the builder, offered a modern design approach. My husband and I at the time were living in Del Webb.
When COVID hit, we both worked at home and needed more space. Since we decided to build a new home, we moved to Cresswind.
Both communities are wonderful; it just came down to the type of housing and design.
You Might Like the Article: Del Webb vs Cresswind Lakewood Ranch
My floor plan decision came down to the Palm Beach and the Alys. Both homes were modern, with clean lines and split bedroom floor plans. It was a tough choice. However, in the end, the Palm Beach Floor Plan for me, was the perfect choice.
But here is what won me over to the Palm Beach in Cresswind Lakewood Ranch.
Buying/Building a New Home? Do you need a Realtor? See it Here
---
✅The Palm Beach Features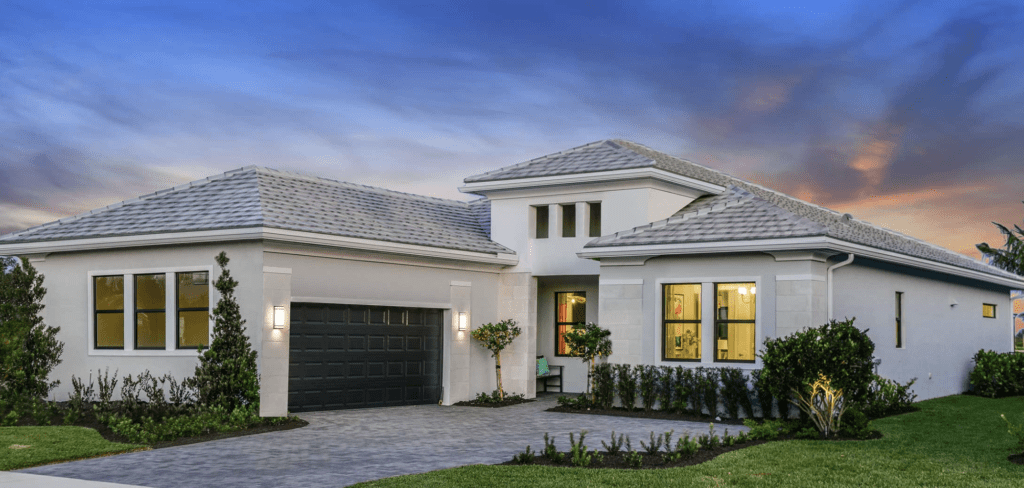 One of the standout features of the Palm Beach floor plan is its split-bedroom floor plan design. Each bedroom is thoughtfully laid out to maximize space and comfort, ensuring a retreat-like feel for residents and guests alike.
The master suite offers homeowners a private sanctuary with ample room, ensuring maximum rest and relaxation.
Here is a list of features for the home that factored into my decision.
3 Bedrooms: Each bedroom occupies a different corner of the home.
All Bedrooms are ensuites: Both guest bedrooms have a private bath attached to the bedroom. The added privacy is perfect for guests or an additional home office.
Half Bath: The Palm Beach is the only home in the Coastal Collection that offers a half bath without building a second floor.
3rd Garage Side Load Option: What sets this home apart from the others in the Coastal Collection is not only the side load garage but the SIZE of the garage. If you decide to have the 3rd car garage, this turns your garage into approximately 720 sq ft.
The flow of the kitchen to the dining area. Gone are the days of formal dining rooms. Today, when we entertain, we want things to flow for added natural light and comfort.
Rear Laundry Room: Some floor plans found at Cresswind locate the laundry room towards the front of the home. Since the laundry rooms are adjacent to the garage, most will be in the front of the home, near the front door. However, the Palm Beach's design situates the laundry room away from the front door.
---
🛠️Structural Options for the Palm Beach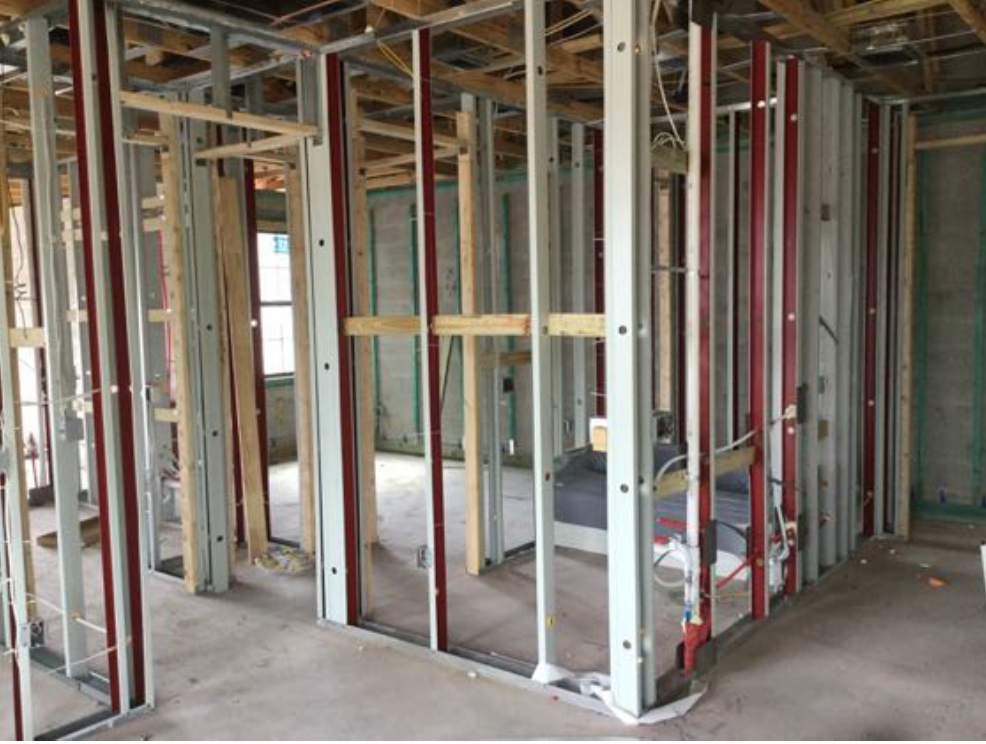 When you build a brand new home, most builders break down the contracts into at least two phases. The first contract will include your lot, the elevation of your home, and your structural options.
Some structural options should be considered for a good resale value, while others you may find less expensive to do after market. This is where a good Realtor can help.
Structural options are items the builder needs to pull permits for during the initial permitting stage. Here is a list of structural options for the Palm Beach in Cresswind at Lakewood Ranch. If you are considering a Palm Beach floor plan but in a different neighborhood, some of these may not apply.
Indoor Structural Options
Adding Doors to the Den: This may seem like a strange place to put this option, but it does have to do with the framing of the doorway. This option isn't something that can be easily changed after market.
Wall Oven & Gourmet Kitchen: This option allows you to wire your wall oven and plumb for a gas cooktop.
Owner's Bathroom Spa Shower: In the Palm Beach, you can have a large walk-in shower with no shower doors. This is a zero entry and is easy to access if you have limited mobility. This dramatic shower is the center piece of the bathroom and gives it a luxury spa feel.
Tub-Shower Conversions: One of the bathrooms offers a tub. Since you are buying in a 55+ neighborhood, tubs are not as highly sought after feature as they would be in a non-age restricted community. Changing a tub to a shower does require plumbing and framing changes, so this must be done during the permitting process.
Floor Outlet: You can have a floor outlet in the living room. It is a good idea to have one, especially to use for lamps or electric sofas.
Outdoor Structural Options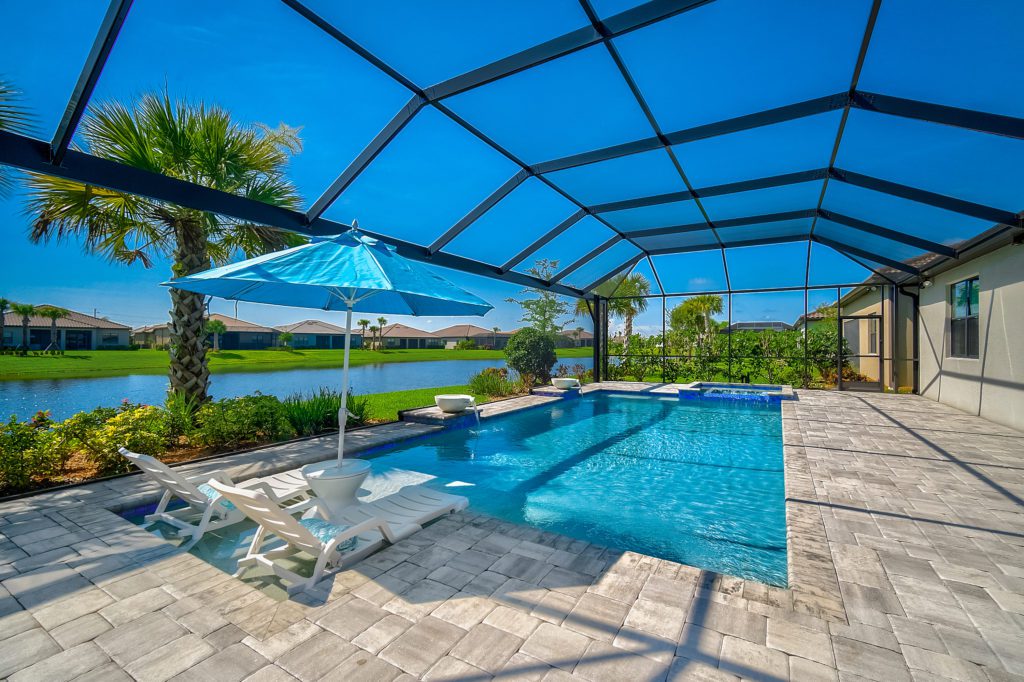 3-Car Garage: This option will make your garage around 720 square feet. Keep in mind this will push the house back so that your lanai and pool area will be a little smaller.
Pool: If you would like to have a pool now or in the future, this is an option to run the electricity and gas line.
Extended Lanai: You can extend the rear lanai area to provide an additional covered area. Extending the covered lanai and having the 3rd car garage will reduce the width of the remaining yard. If you are thinking about adding a pool, this will reduce the width of the pool.
Privacy Wall: This is for the rear of the home on one side. Most of the time, the privacy wall will be used to place the plumbing and wiring for an outdoor kitchen.
Outdoor Kitchen Plumbing & Wiring: Are you considering adding an outdoor kitchen later? If so, do this option. Homes in Florida that are this size that do NOT have at least the plumbing for an outdoor kitchen can hurt the resale value.
Hose Bibs: Normally, Kolter will give you 2 hose bibs. One in front and one in back. If you plan on having a pool, you may want one inside your cage.
---
👨🏼‍🎨Design Options: Palm Beach Cresswind
Your design selections basically involve everything from your flooring to how you want your kitchen drawers to be set. This appointment occurs approximately 30-35 days after your initial contract. Be ready for this appointment. Have an idea of your base colors and flooring.
I typically prepare my buyers for this appointment. This stage is like going to the movies. The theater does not make its profit from selling you the ticket. The real money is in the popcorn and candy.
The design center is the popcorn and candy. It is the highest profit markup, and knowing this before you go in can keep you from losing money and over-improving your home.
Flooring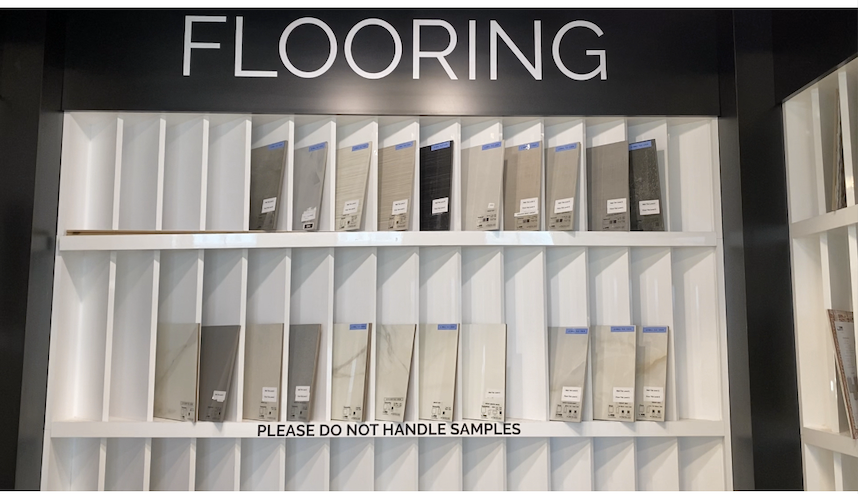 Options for flooring will come down to following
Tile: There will be several quality categories to choose from. Not only will you choose your tile, but you will also have a choice on how it is set (design pattern)
Carpet: Keep in mind Florida is hot and humid. Having carpet in your home could hold moisture. Plus, for resale, it is not ideal.
Engineered Hardwood Floors: This is an option. However, based on my experience, I haven't seen many jobs down here that are well done when installing this type of material. I have had clients insist on this type of flooring. However, one year later, they are having issues with the floor separating and now have to have the entire floor ripped up and re-installed.
Luxury Vinyl Flooring: This is becoming very popular. Where tile is unforgiving, this is not.
Cabinetry
Choosing cabinetry involves not only your kitchen but your bathrooms and laundry room as well. Many of my clients vary the color and quality of cabinetry throughout the home. One recommendation is to determine what areas will be most used and put your money there.
The color of cabinetry can hurt your resale value. Although this may be your forever home, things can change and you will want to get top dollar from the sale of your home.
Trendy vs Timeless
Have you ever been in someone's home and knew exactly when it was built? Or perhaps when they last updated it? We all remember the green, yellow or brown appliances. Well, the same holds true for cabinetry. Timeless never goes out of fashion. Where as trendy is fun, but in the future will need to be updated.
Realtors know buyer feedback on what they like and what they will have to redo. Colors vary by region of the United States. For instance, dark oak cabinetry in Florida will take longer to sell than gray or white.
Bathroom Shower Tile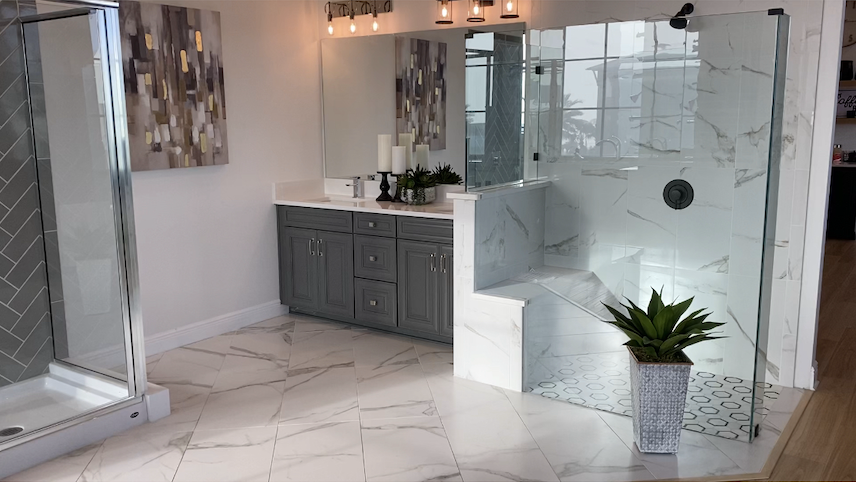 You will find plenty of design options for your bathroom shower tile. This is something that cannot be done aftermarket.
A few recommendations are adding glass borders (listellos) for a design impact and picking something easy to clean.
I love the look of the pebble floor, but cleaning it is another issue. You can have all your grout sealed. I recommend doing that for keeping your white or light-colored grout looking new.
---
🏡The Palm Beach Floor Plan: Cresswind Lakewood Ranch
The Palm Beach Floor Plan at Cresswind in Lakewood Ranch is designed for form and function. The split bedroom design affords additional privacy without compromising the open, spacious feeling of the home.
The living room is the heart of the home with a large wall that can become a beautiful focal point. The kitchen and dining area flow into the living room which is ideal for entertaining.
Although the laundry room is ideally tucked in the back of the home, the design shown by Kolter lacks design and proper utilization of the space.
Since the 3rd car garage option is a side-load, it will compromise the space in the rear lanai area. The model home and the video above show you the size of the lanai with the 3rd bay. The lanai is still large enough to accommodate outdoor furniture and a kitchen.
I have been in real estate sales for over 24 years. I am originally from the Midwest and have lived in beautiful Florida for over a decade. My career sales are over 2,300 homes sold. There aren't too many obstacles I haven't encountered throughout my work history. I provide you with honest advice backed by years of experience and understand that a real estate purchase or sale is your top priority.
Nationally recognized. Licensed FL Real Estate Instructor. Contact me at Sandy@SandyWilliams.com or call 941-564-9491