Sarasota Real Estate Market Report for March 2017
Here's a look at the Sarasota real estate market for March 2017.  According to the report released by My Florida Regional MLS, prices in the Sarasota County area continue to increase as we move into the prime selling season in the Sarasota area.
Although the beginning of the first quarter in 2017 points to a robust real estate market in Sarasota County with the average days on the market being just 78 days.  However, there is an indication of a slight adjustment from a seller's market to a more balanced supply and demand as more homes come up for sale.
March 2017, saw a total of 5,111 active Single Family, Condos and Townhomes sold in Sarasota.  The average sales price for a home in Sarasota County was $340,656.  This amount shows an increase of 1.93% when compared to homes sales in March 2016.
Read the Article: What are Seller's Closing Costs in Florida
Sarasota Sees an Uptick in Housing Supply
As more sellers put their home on the market, there are signs of a market shift.  An additional 1,652 homes came on the market for a total of 40,617 properties available in the MLS.  Currently, there is a 5.2 months supply of homes in Sarasota County, which is an increase of 9.6% from March 2017.  On a month to month comparison, in February 2017, 1,567 sellers listed their homes for sale vs 1,652 homeowners in March.  That is a one month increase of 1.5% in housing inventory.
New Construction Market for Sarasota
Most new construction homes are not listed for sale in the MLS.  So, the current numbers provided do not really indicate the true housing supply that is available. According to the Sarasota County government website, there were over 220 permits pulled for new housing construction in the month of March 2017.  Some new construction is built for speculation purposes while most homes are built for buyers who have signed contracts with builders and made deposits.  As the real estate market continues to improve, new construction will play a significant role in the Sarasota real estate market.
A Look at the Sarasota Condo Market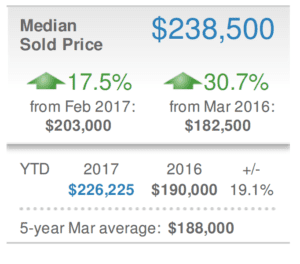 The first quarter of 2017 shows a significant increase in the condo listing inventory from the same time last year.  This March, 417 new condos listings were put into the MLS.  That is an increase of 6.9% from March 2016.  Additionally, there were over 1400 condos listed for sale with no offers as of the end of March 2017.
In Sarasota County, the median sales price for a condo or townhome was $238, 500, which is an increase of 30.7% from March 2016.  The average days on the market for units sold in March was 96 days.  That is an increase of 10% compared to the 5 year average of 88 days
Real Estate Values for Sarasota Single Family Homes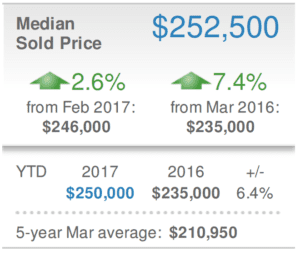 Sarasota's single-family housing prices for March has seen an increase of 7.4% compared to 2016. In addition, the median sales price in March increased over February 2017 by 2.6%.
Let's look at contracts accepted (pending) to properties listed for sale. That gives us an indication of how active the market is.  The number of contracts accepted vs the number of active properties was down for March 2017 compared to 1 year earlier. In March, 21% fewer buyers wrote offers and got them accepted as compared to a March 5-year average.  A decrease in contract activity can indicate that the market is moving in the buyer's favor.
What Does this Data Mean
Florida has seen above average appreciation rates in the housing market in the past five years.  As the number of foreclosures declines and we return to a traditional marketplace, many homeowners will now feel confident in putting their home for sale.  As indicated, in the first quarter, the housing inventory is starting to inch up while the number of contracts has declined. This would indicate a more balanced housing supply and a slight shift from a seller's market.
What if you are Buying a House
As the Sarasota real estate market starts to become more of a balanced market, meaning there is adequate supply for people wanting to purchase a home, the prices should start to stabilize.  Competition with fellow buyers should decrease and the level of multiple offers should also subside.  One thing to really watch are the interest rates. Currently, they are still very low, however, the Federal Reserve has indicated several increases in the year 2017.  As of this writing, there already has been one rate increase and many are still expected. An additional rate hike could put you out of the market or reduce your purchasing power significantly. So, if you have thought about buying a home, you may want to consider doing it sooner rather than later. The housing prices are not expected to decline, but rather stabilize.
What if you are Selling a Home
Home values are up over 30% from March 2016.  Many sellers have been waiting for the prices to increase before putting their home for sale.  Last quarter 2016 and earlier this year, there was a shortage of housing stock. However, the first quarter has shown a month to month increase of listings. As a result, the number of accepted contracts has slightly declined vs the number of homes listed for sale in the MLS.  Prices are stable and it is not anticipated that there will be a price decline. However, that may change if the interest rates continue to go up. As rates increase, many buyers will be left to reduce their purchase price in order to qualify for a mortgage.
It is still a great time to sell, although you may have more competition than previous sellers. Getting your home ready to sell and eliminating buyer objections will be more important than before. Knowing the comparables of similar homes sold in proximity to your home will be the best way to price your home. 
See Median Priced Homes for Sale in Sarasota
Summary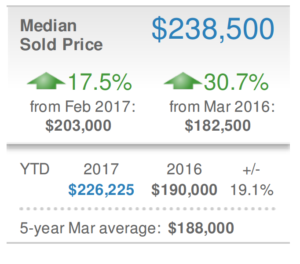 Article Name
Sarasota Real Estate Market Report
Description
A March 2017 highlight of the real estate market, sales and projections for Sarasota, FL. This article looks at the following: 1 Year review of real estates sale for March 2017, the number of homes for sale in Sarasota in addition to the number of closings that took place for March 2017.
Author
Publisher Name
Publisher Logo

I have been in real estate sales for over 20 years. I am originally from the Midwest and have been living in beautiful Florida for over a decade. My career sales are over 2,100 homes sold. There aren't too many obstacles I haven't encountered throughout my work history. I provide you with honest advice backed by years of experience and understand that a real estate purchase or sale is a top priority for you. Nationally recognized. Licensed FL Real Estate Instructor. Contact me at Sandy@SandyWilliams.com or call 941-564-9491