Preparing to sell your house is something that most of us know we have to do, but is rarely a fun task.  It's almost like a necessary evil, but doing some work and getting your home ready to market can equate to a quicker sale and for more money.  So, look at it this way, if I wrote you a check for $4,000, would you do a little work to make your home marketable?  Moreover, a home that shows well, is clean and overcomes objections, will be the house that sells the quickest and for the most money
You May Be Interested in the Article: What are Seller's Closing Costs in Florida
However, preparing your house to sell doesn't mean doing major remodeling work, unless you know you will be getting your money back or is a structural issue that will come up during a home inspection or appraisal.  For now, let's set those two issues aside and talk about the basics of preparing to sell your home.
Get Your Instant Home Value Here
Timeline for Preparing to Sell Your House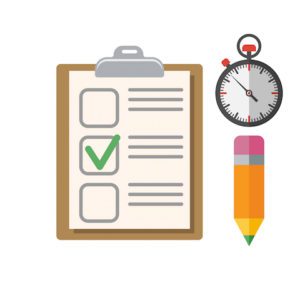 When should you start the process of preparing your home to sell?  My advice is to do this in stages if time allows.  Doing your work incrementally allows you to tackle the larger items first and then work down to the smaller things closer to the time your house goes up for sale. For instance, resurfacing a pool, not only can take a week or more but can be a little costly. By doing the work early, you get to enjoy your pool before you sell your home.  Whereas replacing flooring, pressure washing sidewalks, and washing windows are items that should be done closer to the time your home is listed for sale.
If you need to pack items up to improve space in your closets and garage area renting a storage unit in advance and moving those items prior to putting your house up for sale, will save you time on the back end once your home gets an accepted offer.
Planning your preparation will reduce your stress, allow you to be more organized and your future self will thank you.  Once you have an accepted offer, the time will go very quickly.
You May Want to See The Article: 6 Costliest Mistakes Sellers Make Pricing Their Home
[su_divider divider_color="#45f0cc"]
Don't Get Your House Eliminated
Another helpful thing to remember is buyers are coming into your home to rule it out, not in hopes of buying it. Buying a home is done through a process of elimination. Buyers will be coming to your home to see what's wrong with it, what they can live with or change.
Eliminate the saying, "I like it but…"   This how buyers are going to rule out your home, or put it in the buy category.  When I work with buyers, this is how the conversation goes, Sandy, I like this home, but…it has too much wallpaper, the kitchen is really old, the house smells like smoke, etc.  When you prepare your home to sell, keep that "but" objection in mind.  The more "buts" you can cross off your checklist, the faster your home will sell.
The internet is a powerful tool for buyers. The majority of buyers shop online for homes before they even look for a Realtor to help them with a purchase.  If your home does not present itself well in photographs, the buyer will automatically eliminate it.  They won't even ask their Realtor to see the home.  Tech-savvy buyers usually send me a list of the homes they saw online and request to see those first.  If your home isn't one of them, you didn't even make the first round.
You may want to check out a few homes listed for sale in your area (basically, your competition) to see how your home stacks up against them.  Remember, buyers, do comparison shopping in the areas they are looking to purchase.
See the Article: The Home Inspection Process
[su_divider divider_color="#45f0cc"]
How to De-Personalize Your Home
One key thing to remember while reading through this list is that your potential buyers want to see this space as their home, not as yours. So de-personalizing is key.  In addition, buyers are usually curious as to why you are selling your home.
Most sellers do not realize it, but they leave clues around. Those clues can hurt you in negotiations. For instance, if you are going through a divorce and all your rooms are suddenly cleared out but a person can tell they were previously occupied, that shows opportunity for a buyer.  In addition, take a look at what reading material you have out. If you have self-help books about divorce, etc you should pack them away or put them where the books are not obviously seen.
Beware! Homes can actually be over staged.  I listed a home after it had expired with the first real estate agent.  I worked with the seller to change his staging around and the home sold in the first 2 weeks. Personal photographs or collectibles can sometimes draw a curious buyer away from your home.  Neutrality is key, but with a personal touch.
Sometimes it's not all about clearing out everything but staging your home effectively.  Home builders have this down to a science with their model homes. If you need good ideas, go look at a few model homes in your area.  Take a few photos while you are there and use them as a reference.
[su_divider divider_color="#45f0cc"]
Cleaning and Organizing Your Home
Organizing: This is a big one.  Perhaps the reason you want to sell your home is that you need more space.  As a result, your closets are jammed packed, your garage is full and your kitchen is busting at the seams.  This is a problem for you.  You certainly do not want to convey to a buyer that your house is too small.  Therefore, it may be necessary to start packing!  Since you are moving anyway, take the time to go through all your closets and get rid of things you haven't worn in years.  Chances are you may find a few things you forgot you ever had!  Saving clothes because "one day" you know you will lose the weight (been there, done that) are clothes that should be packed up.
Consider getting a storage unit now.  If you are selling your home in the summer months, for example, pack up your winter clothing, coats, etc and put them in storage.  The same goes for larger furniture that is blocking walking paths inside your home. The art of making a small house look big is to get your furniture to scale in your home and reduce clutter.  Plus, if you have collectibles that you do not want to be touched, pack them now. Storage units have climate controls and you can purchase additional insurance, just in case.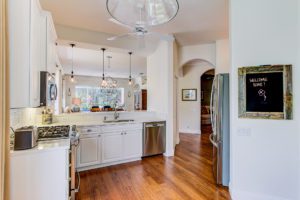 Buyers buy mostly for kitchens and bathrooms. Those two areas should be free of clutter. Clear off the kitchen countertops, get rid of magnets, etc. that are on your refrigerator. Take a look inside your refrigerator.  If you have salad dressing from 2 years ago, throw it out. Take all your drawers out of the fridge and clean thoroughly. Remember, buyers are looking at your pride of ownership.
Kitchen pantries are also areas that should be cleaned out.  I love to cook and have a stocked pantry. Probably too well stocked and sometimes my pantry looks like a mini-mart.  If I were to sell my house, my pantry would be cleared, appear more spacious and ready to go.
Cleaning Your House to sell:  While your house or condo can look neat, and organized, it's the small details people pick up on. That means washing the windows – inside and out – and vacuuming the dust that's accumulated in the exhaust fans. Wipe down your interior doors and wall switches. We use the light switches in our home every day and sometimes the faceplates just need a good cleaning. Since they are easy to remove, take them off and stick them in the dishwasher on the top rack. Dry them off and put them back on. Totally clean!
Wiping away the dust on the blades of the overhead fans, cleaning the inside of the oven, cabinets, and refrigerator is also a must. Dust can get into the most unexpected places, and once you've been living in a space for a while it's easy to overlook it. Baseboards can get dusty too. Wipe them down for a great overall appearance.
How you live and how you prepare your property to sell and maintain, are sometimes two different things.
[su_divider divider_color="#45f0cc"]
Should You Paint to Sell Your Home?
How do your walls look? Do you have older wallpaper? If yes, then you may want to remove the wallpaper and paint your walls. I cannot tell you how many times buyers have walked away from a nice home because of all the wallpaper that needed to be removed. Removing wallpaper can be a grueling task, however, it will keep you from losing money on the sale of your home.
I had a townhome listed for sale that was covered in wallpaper.  The seller refused to remove the wallpaper despite the feedback from other agents.  The home sold for thousands less and took longer to sell than it should have because of the wallpaper issue.  Honestly, taking down wallpaper is not fun, but losing thousands of dollars and delaying your plans are worse.
Do you have scuff marks, damaged drywall or bright/dark walls? Then a fresh coat of paint is in order. Painting a worn out room can go a long way in making your home look bright and new. So, what color should you paint your walls when selling your house?  Before deciding, really look at the lighting in the room you want to paint. Natural light vs artificial plays a big role in how that paint is going to look. Bring home a few samples and paint a few test spots.
It is best to choose neutral tones such as beige, gray and soft whites. Neutral paint colors allow the buyer to see themselves in the space.  You can also see how the paint will look in your space before you paint it. Several paint companies have websites that will show you what the paint will look like in a bedroom vs living room.
The outside of your home is just as important as the inside.  Do you have chipped or peeling paint outside?  You should address it now. Some mortgages that are available have strict requirements, such as FHA, pertaining to chipped and peeling paint inside or outside of a home. Dark colors such as brown, are less desirable than a lighter exterior.
See the Article: Top 15 Must-Know FHA Guidelines for Selling
[su_divider divider_color="#45f0cc"]
Best Paint Front Door Color for Selling Your House
[
A nice, freshly clean front door is important in preparing your home to sell. For some reason, this often gets overlooked by sellers, yet your front door is the first thing a potential buyer sees up close. Since your door will more than likely have a lockbox on it. Buyers will be waiting for their agent to open the door.  So, give the buyer something good to look at! Clean and/or paint your front door.  If your doorknob is worn replace it. A new lock, a fresh coat of paint on the front door goes a long way to making a good first impression.
Zillow analyzed over 32,000 photos of homes that sold across the United States and came up with a list of colors that performed the best.  Gray/blue (navy blue to dark gray or charcoal): home sold for $1,514 more on average.  Although these colors may seem more popular, it may also depend on the region or area of the country the home is located in.  For instance, a dark door in South Florida may not be the norm and therefore would appear odd to a buyer.  Try and have the front door compliment the paint on your home's exterior.
Additional popular colors for a front door include a deep red, green, orange and blue/green.
[su_divider divider_color="#45f0cc"]
What Are the Best Kitchens for Resale
Kitchens and bathrooms are major ticket items for buyers and sellers. If you have a worn out kitchen, older countertops or dated appliances, you may want to consider having these items replaced.  It depends on your market and what it is expected in your selling price point.  Knowing your market and resale value will help you determine the necessary replacements. The last thing you want to do is over improve.  However, if you have lived in your home for an extended period of time, you may have enjoyed the lifespan of the appliances and so forth and therefore a kitchen upgrade is necessary.
Over the 20+ years, I have been selling real estate, one common mistake buyers make is judging the cost of repairing an item. For instance, if a new countertop would cost you $1000, most buyers in their mind double the amount. So, you could be instantly losing money by not improving your kitchen. Most buyers need to have the home tell a story.  Remember, there is money in vision. And most buyers are willing to pay for it.
You may not have to completely renovate if your budget is tight or your market does not warrant those repairs. Several small details can perk up the appearance of your kitchen.  New paint and hardware can improve the cabinets, and peel-and-stick wall tiles can make an affordable option for a backsplash.  If you live in an area where there is new construction, you may find granite remnants for your countertops that are left over from new construction. Under cabinet lighting is a good option for a darker kitchen and is an easy addition. If your kitchen is dark, consider painting it as well.
[su_divider divider_color="#45f0cc"]
What About Your Floors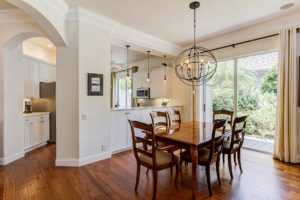 How many types of flooring do you have in your home?  This seems like an odd question but a floor that doesn't visually flow properly can make a house look small and choppy.  If your floors are mismatched or perhaps you have replaced some but left the 1980s tile in the kitchen, this may be the time to replace it.  Once again, this depends on your price point and market.
Tile Flooring: Older Tile Flooring usually has an issue with dirty or darker grout. Dirty Grout in tile flooring is an easy fix and can breathe life back into the older tile. Grout that is cleaned and painted will not only brighten up a room but make the room look larger as well. Depending on the size of the area you need to do, this is a quick and inexpensive fix.
Replacing old tile flooring is much easier than it once was. There are machines now that can just pop up the tile flooring without the having to jackhammer it out.  It is much cleaner (no dust), quicker and cost effective too. Too many homeowners put off replacing tile because of the mess, now you don't have to worry about it.
Carpet: Does your carpet have heavy traffic patterns or is not what most buyers find in your area? For instance, in South Florida, carpet is not what most buyers expect.  Our area has a high humidity level and if you are nearby the beach, carpeting is not well received.
If your carpet is stained or has a heavy traffic pattern, considering replacing it, especially if it is in the main room the buyer enters from the outside. This is a first impression issue as well as overcoming a buyer objection.
[su_divider divider_color="#45f0cc"]
Eliminating Odors from Your Home
You may not know it but your house can stink.  I am a member of several real estate Facebook groups and every day an agent is on asking for advice about getting rid of smoke and pet smells, etc.  In addition, masking an odor only makes the matter worse.  You must find the source and eliminate it.
A bad smell is more than just a smell.  It is a smell of money walking out your door.
Did you know that retail establishments pay money to pump smells into their stores to stimulate buyers to spend more?  In addition, a high-end hotel or resort will infuse perfumes into their lobby so that guests stay at their facility and spend money.  Buyers buy on emotion and it is a known fact that a smell can play a significant role in purchase power.
[su_divider divider_color="#45f0cc"]
Get Your Instant Home Value Here
How to Get Smoke Smell Out of House
First, you need to stop smoking in your home.  No exceptions. Buyers can smell stale smoke by the front door. This is worth thousands of dollars. Smoke is the worst complaint-even worse than cat urine.  So, how do you get rid of the smoke smell from your house?  Depending on the severity, you may have to Kilz the walls first to put a barrier between the nicotine film and the walls.
Just painting the room is not enough.  The nicotine will actually penetrate through the fresh paint.  Kilz is a special product found in the paint section.  It is a thick substance that will cover quite effectively. Once that is done, and you paint, you will more than likely have to scrub the air.  The involves an ozone machine that will actually clean the air.  You can find this service usually with a company that remediates mold or takes care of major water leaks or fires.
If you have curtains, they will have to come down and be professionally cleaned.
Smoke lingers in fabrics, wood and so forth. Just painting and cleaning the air is probably not enough if there has been smoking in the home for a significant amount of time.  Carpet will need to be cleaned as well and perhaps the ductwork of your HVAC system. I was surprised to know that wood will capture smoke smell too.  Wipe down the furniture with something like Murphy's Oil Soap and dry.
[su_divider divider_color="#45f0cc"]
How to Get Rid of Pet Odors
I am a dog person.  I love pets, cats and dogs.  But let's face it, sometimes they smell like a dog or cat.  Although you may not smell it since you live with your pet friend, other people can. That is a big turn off for buyers.  It gives the impression of uncleanliness.
Unless you have cat urine that has seeped into your carpet or perhaps even your concrete slab, getting rid of pet odors is actually relatively simple.  If cat urine has seeped through your flooring and into your slab, you need to clean the slab with bleach water and seal.
The first action is to bathe your pet. Depending on how active your pet may barring skin conditions, will determine how often you groom them.  Second, is to clean their bedding, places they stay, wherever their shelter is located.  If you have a cat, make sure that that your litter box has an odor absorbing chemical in the litter and is cleaned daily.  Lastly,  clean your carpets. Cleaning carpets will go a long way in reducing the pet smell. If the pet smell is still lingering, you may have to clean the ductwork of your HVAC system. Finally, if your pet is allowed on the furniture and has a favorite spot, that fabric on the furniture may need to be professionally cleaned as well.
The hard part maybe maintaining that fresh smell until your home closes.  Remeber, the buyer will be coming back after the home is under contract to do a home inspection and a final walk through.
[su_divider divider_color="#45f0cc"]
Bathroom Updates for Resale
What are the best bathroom updates you can make to help with selling your home? First, be sure to look at the real estate market conditions for your size of home and location. If the sold comparables in your area show homes that had updated bathrooms, then that is what the buyer is looking for at the price point and location. If your bathroom doesn't compare but you want to achieve a similar sales price as homes by you that are similar in size and age, then you should consider updating your bathroom.
Bathrooms like kitchens are important to buyers. So, making your bathroom fresh and clean is an absolute must. Not only should you clean up any dark/molded areas, but getting the tiles and/or bathtub re-glazed is a great way to make the bathroom look like it's been newly renovated. This can change those off pink, old-fashioned tiles to bright and shiny white ones!  Also, ensure that any cracked tiles are fixed.
An old bathroom vanity or old faucets should be replaced if your market requires it. Also, check your mirror(s).  A lot of times, mirrors can get water damage in the corners if they are older.  You can see the blackish edges.  This is more than likely water damage and cannot be fixed easily unless you re-silver the mirror. There are however a few alternatives.  For instance, you can put a border on the mirror if it is a large plate mirror, or you can replace it.  If you are thinking about replacing the mirror and are looking for affordable options, consider going to a home furnishings retail store. Mirrors used in other areas of the home are making their way into bathrooms. It is an affordable yet effective way to make your bathroom look new again.
If you have a smaller bathroom, make sure all items such as hair dryers, flat irons, etc are organized and put away. Bathroom drawers should be wiped out and cleaned. Clear out old makeup, shampoo bottles, etc. Underneath your sink should be well organized and accessible, it will have to be in that condition for the home inspector. So, starting early just puts less pressure on you.
If your bathroom is in good condition, then replacing the shower curtain, bath mat and hand towels may be all you need.
[su_divider divider_color="#45f0cc"]
Improve Lighting to Help Sell Your Home
Some homes have great natural light during summer months but become rather dark during the fall and winter. Take a look at your interior rooms and the light fixtures. Your interior rooms should be inviting and light.  Dark rooms can make space seem smaller and cold.
If your light fixtures are old then considering replacing them. Newer light fixtures are energy efficient and there plenty of affordable options. If you have nice lamps then considering changing the shade or light bulbs. If you are replacing a lamp, remember the bonus is you get to take it with you if it isn't attached to a wall or ceiling.
Old ceiling fans should be replaced.  There are so many times that I have gone into a beautiful home that has been freshly painted, nice décor added but an old white ceiling fan that wobbles when you turn it on.  If you cannot change the fan, make sure it is clean and is balanced.  In the living room, for example, having soft, overlapping light can eliminate harsh shadows.
The kitchen lighting is also important. Having light that illuminates the countertops and sink – where most of the work is done – while not casting shadows can be achieved by placing lights low, perhaps under the cabinets. You can buy under cabinet lighting at a local hardware store that is easy to install and many have battery options so you do not have to hardwire them into your current electrical system.
Lighting isn't just about lights but about window treatments as well.  You can lighten a room by removing dark curtains and replacing them with shears or blinds. Light colored window treatments can go a long way in making a room look larger and brighter.
[su_divider divider_color="#45f0cc"]
Final Thought/First Impression
As the saying goes, you never get a second chance to make a good first impression. People want to feel warm, welcome and safe as they approach your home. If you are selling in the spring or summer, consider planting a pot/box of flowers to put by the walkway or front door.
Preparing your home to sell is not always an easy task. However, by doing it in steps and having a game plan should help you sell your home quicker and for money.  In addition, it will help making moving easier.  Being organized, while reducing clutter, will save you time later when there are deadlines to be met.
Having a good real estate agent that knows your local market will enable you to put the time and effort in parts of your home that will give you the greatest returns.
I have been in real estate sales for over 24 years. I am originally from the Midwest and have lived in beautiful Florida for over a decade. My career sales are over 2,300 homes sold. There aren't too many obstacles I haven't encountered throughout my work history. I provide you with honest advice backed by years of experience and understand that a real estate purchase or sale is your top priority.
Nationally recognized. Licensed FL Real Estate Instructor. Contact me at Sandy@SandyWilliams.com or call 941-564-9491

Summary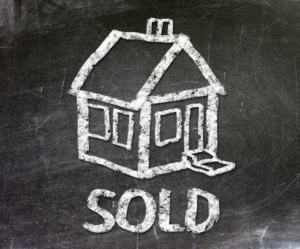 Article Name
Preparing to Sell Your House
Description
Get Tips for Preparing to Sell Your House as told by a long time real estate agent. Get the inside scoop on what buyers are looking for, what they are willing to pay for and know their biggest objections. See Videos and More Here!
Author
Publisher Name
Publisher Logo