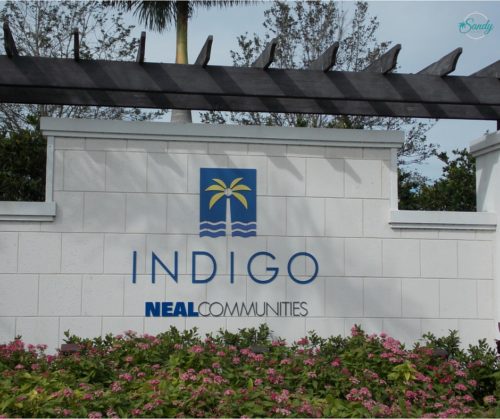 Indigo at Lakewood Ranch is tucked away in the northern part of Lakewood Ranch. The development is a Neal Community, which was voted Builder of the Year for 2015. Neal Builders is a family-owned company, known throughout South Florida for their green development designation and for building homes at various price points.
You Might Be Interested in Esplanade Golf & Country Club
Indigo at Lakewood Ranch, is located north of SR 70 and just west of Lakewood Ranch Boulevard. Indigo at Lakewood Ranch is a single-family gated community with prices starting at $277,990. The homes are either 2 or 4 bedrooms, ranging in size from 1,407 to 1,764 square feet and 2-3 car attached garages.
The entire neighborhood will consist of 453 homesites set around lush landscaping and mature oak trees. This community also features a modern clubhouse with kitchen facilities, a gym and yoga studio. In addition to the expansive community center, this neighborhood also has a full-time activities director.
You may be interested in the article: Building a New Home, do I need a Realtor?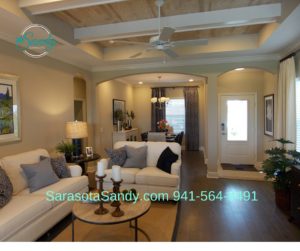 Buying a New Home
If you have been thinking about buying new construction, there are several things to consider. Lakewood Ranch has numerous neighborhoods that are being constructed. Some of those neighborhoods have a golf course and large fitness facilities, while others have clubhouses and pools. Depending on how much you want to spend per month as part of your homeowner's association dues and whether or not you will use the facilities might be something to think about.
Those model homes are beautiful and the salesperson for the builder is very nice and seems easy to work with, but just remember, they work for the builder. Having a second set of eyes and someone to assist with the upgrades and selections may not be a bad idea. Realtors bring 63% of the buyers to new homes, according to the National Association of Realtors.
HOA Fees for Indigo Lakewood Ranch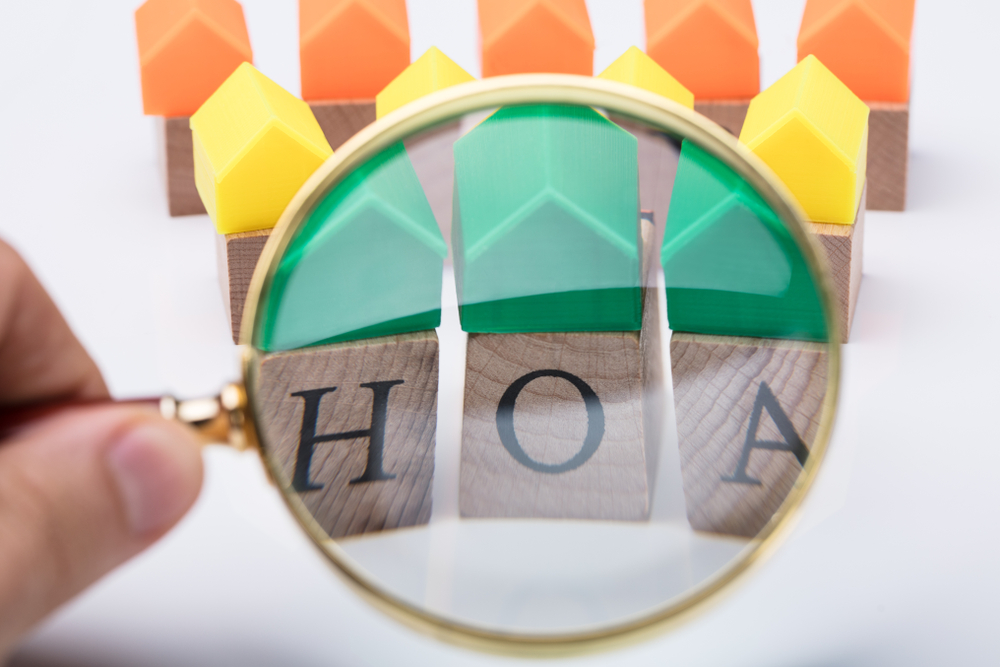 The HOA fees for Indigo at Lakewood Ranch vary depending on the home size.  The fees are structured by what series you own or decide to build.
Villas: The villas are the Tidewinds and Sandcastle models.  The monthly fee is $171
Cruise: The Cruise series includes the following models, Valiant, Liberty 3, Patriot, Victory, Honor and Heritage.  If you are thinking about one of these homes, your HOA dues will be $200 per month.
Cove: The Cove series is the mid-size to larger homes.  These homes are Eventide 4, Endless Summer 3, Bright Meadow and Sea Star.  The monthly HOA fees will be $229 per month.
Classic: The Classis series is the larger homes found at Indigo Lakewood Ranch.  The models include Daybreak, Silver Sky 2, Wind Star and Clear Day.  If you are considering one of these homes or own a Classic series model, the HOA dues are $247 per month.
Indigo at Lakewood Ranch is a gated, maintenance-free neighborhood.  Your lawn is cut and maintained by the association and your HOA dues cover those expenses.
Home Sizes & Series at Indigo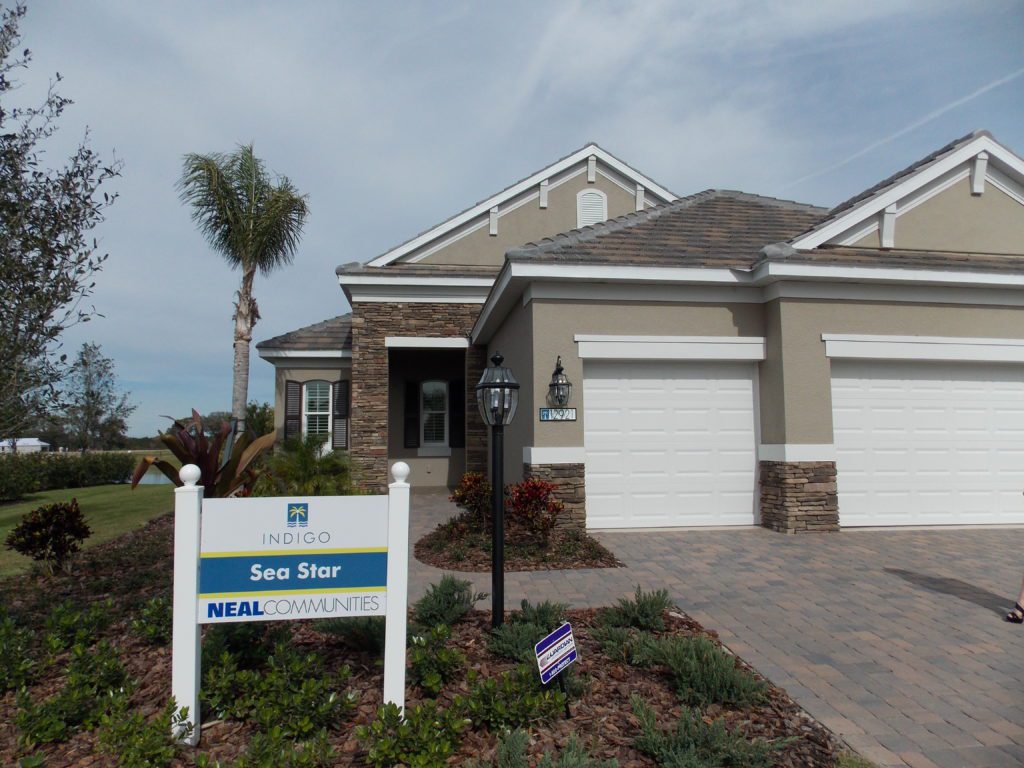 Indigo at Lakewood Ranch offers 4 different series of homes. Whether you are looking for a lock and leave it villa or a sprawling home for entertaining, both are available here.
Villas: The villas are an attached option with two different floor plans.  The starting price for a villa is $277,990.
The Tidewinds is a 2 bedroom, 2 bath property with a total square footage of 1632.  This does come with a 2 car attached garage.
The Sandcastle is the largest of the villa floor plans and features 3 bedrooms, a den, and 2 full bathrooms as well as a 2 car attached garage.
Each villa has the option to upgrade the interior such as quartz countertops, flooring and more.  You also have the exterior option of impact glass windows and doors.
Cruise: The Cruise series at Indigo are the single-family homes that range in size from 1407 square feet to over 2400 square feet.  Most of the homes in this category are 3 bedrooms and located all on one level.  The larger homes found in this category, the Honor and Heritage are two levels.  The Heritage is the largest of the Cruise series and offers 4 bedrooms and 2.5 bathrooms.
Cove: The Cove models are found are larger homesites and square footage ranges from 1904 to over 2300 square feet. Most of the homes in this series are 3 bedrooms, 2 bath homes.  The Bright Meadow and Sear Star floor plans offer 3 car garages.
Classic: The Classic Group are the largest homes found in Indigo Lakewood Ranch.  Starting at a price point of $391,990 to $437,990, these floor plans range from 3 to 4 bedrooms.  The larger homes found in this series, the Wind Star and Clear Day, have additional bathrooms as well.
Home Features at Indigo Lakewood Ranch
The community features four different style homes from the Cove Series, ranging in size from 1870 square feet to 2379 square feet. Neal Builders will also build four style homes from the Cruise Series, ranging in size from 1509 square feet to 1764 square feet.  There are also villas and larger homes in the Classic Floor plans, which start at 2395 square feet to 2980 square feet
Below is an example of features that will exist for the Cove Series. Each series of homes have numerous upgrades available. Below are the standard options for the Cove Series.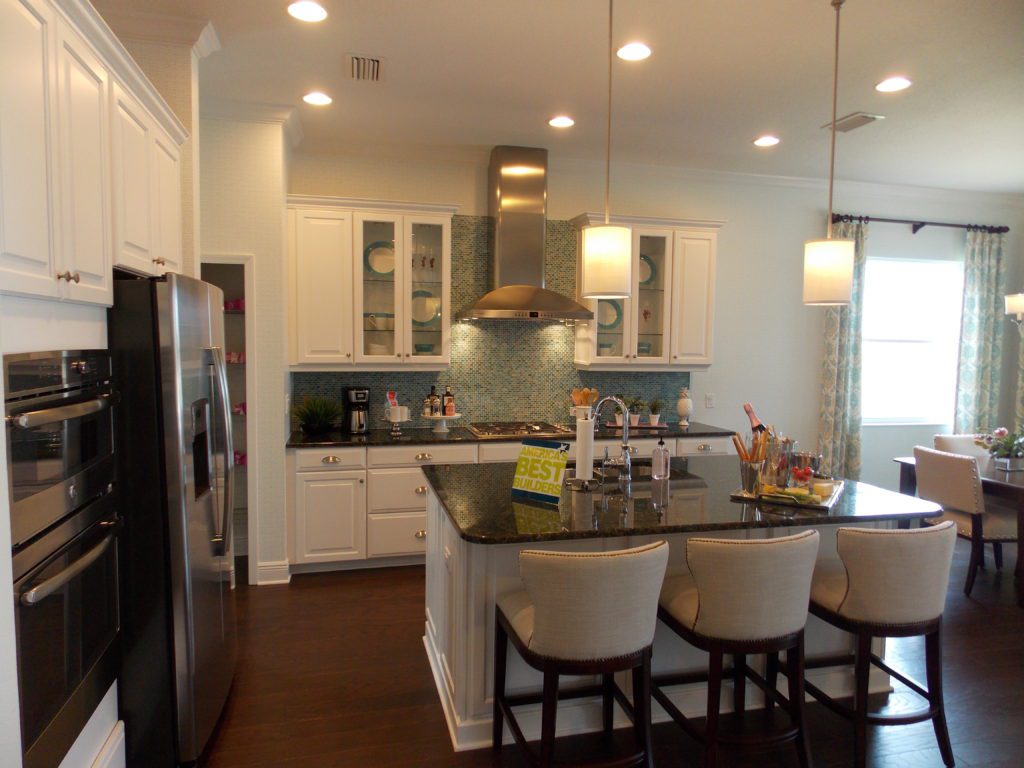 There are three model homes for Indigo at Lakewood Ranch that are available to view. In addition, each model has a great representation of the floor plans available and various options for upgrades and wonderful decorating ideas as well. There are also new homes completed for immediate occupancy.
Kitchen Options
General Electric stainless steel appliance package
Over-the-range microwave
Dishwasher
Gas Range
36″ upper level 1 full overlay wood veneer cabinets with hardware
Cabinet crown molding
Granite countertops
Spacious pantry
Luxury Bathroom Features
Ceramic tile walls and glass shower enclosure in master bath per plan
Full-width vanity mirrors
Designer vanity lights
White tub in guest bath
Outside vented exhaust fans in all baths
There is also a professional in-house design service too.
Energy Saving Features
Natural gas
High-efficiency 15-SEER air conditioning system with a digital programmable thermostat
All air conditioning ductwork 3rd party tested by a Class 1 Energy Rater-certified to substantially leak-free
50-gallon gas water heater and electric heat pump
Fitness
$1.6 million clubhouse with a fully equipped kitchen
Resort-style pool with sun deck and cabanas
State of the Art Gym
Cardio and Yoga Room
Full-Time Activities Director
Tennis courts.
Lakewood Ranch Neighborhoods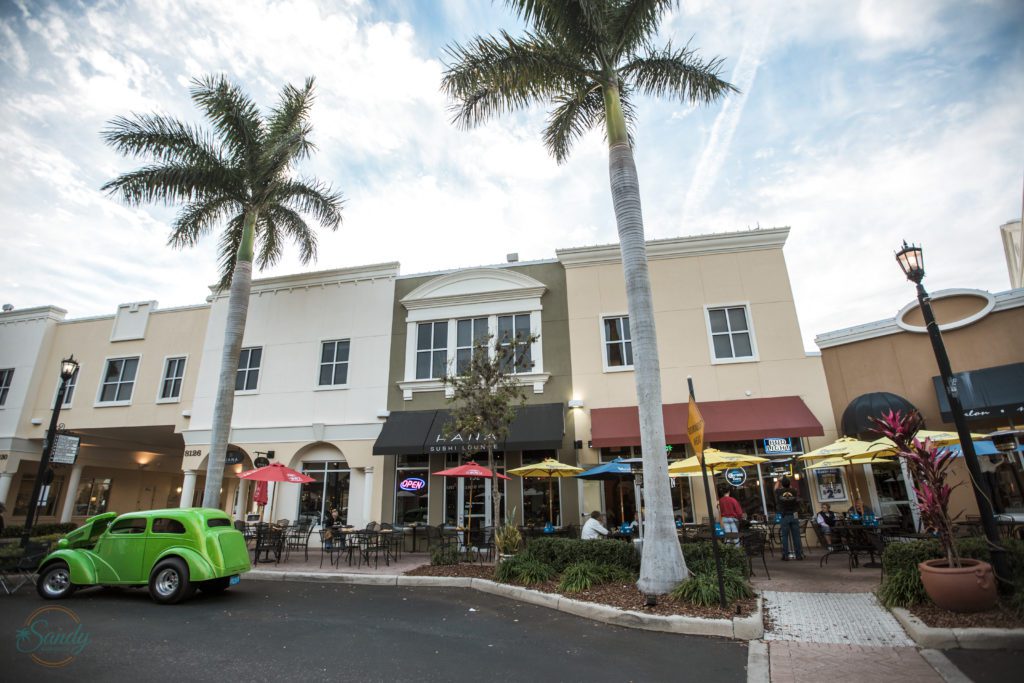 The town of Lakewood Ranch is an award-winning master-planned community and ranked as one of the top-selling communities in the United States. Known for its diverse housing options and motto of "live, work and play". The neighborhoods of Lakewood Ranch also enjoy the following amenities.
Over 150 miles of sidewalks and nature trails
Vibrant downtown with unique shops, restaurants and movie theater
120-bed hospital and medical center with inpatient and outpatient services
Nearby golf courses
Polo and cricket clubs
Monthly events and happenings on Main Street in downtown Lakewood Ranch
Athletic centers with aquatics and lighted tennis courts
Less than a 10-minute drive to University Town Center with over 100 retailers, including luxury department stores and major restaurants
Short drive to the world-famous beaches and downtown Sarasota.