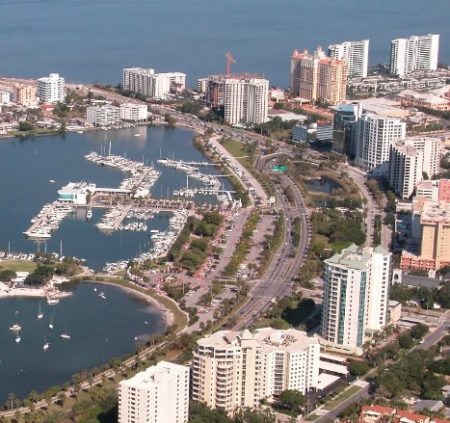 Sarasota County, Florida is home to the cities of Sarasota, North Port, Venice; the town of Longboat Key; and 23 unincorporated communities. Sarasota is the county seat, and the largest city is North Port. The area spans 572 square miles of land, and 153.6 square miles of water spreads across Sarasota County. Sarasota County, created in 1921, is on the southwestern coast of Florida.
More than 386,147 people call this county home. Average household income is over $48,000. Detached houses are valued at an average of $288,269. Condos and townhouses are estimated at values of $193,449. Average monthly mortgage in Sarasota County is $1280.
Sarasota County Public School District services 42,000 students, 5,000 employees, and 52 schools. Sarasota County Public is proud to be one of only ten "A" districts in Florida. There are twenty-four elementary schools, eight middle schools, eight high schools, five special schools, three alternative schools, and twelve charter schools. More than 250 buses travel about 30,000 miles each day to transport over 18,000 students within the Sarasota County School District.
There are eight branches of the Sarasota County Library. Frances T. Bourne Jacaranda Library in Venice; Fruitville Library, Gulf Gate Library, North Sarasota Library, and Selby Library are all in Sarasota. North Port Library is in North Port and Osprey Library at Historic Spanish Point in Osprey. There are also seven little free libraries located throughout the area.
SCAT, the Sarasota County Area Transit provides bus service throughout Sarasota County. For route information, planning, or customer service, call 941-861-5000.
This county in Florida receives approximately fifty-two inches of year annually, spread over 107 days of measurable precipitation. There are 251 sunny days of the year in this area. Average high temperatures are around 91 degrees, and average low temperatures are a comfortable 51 degrees.
There are plenty of places to experience and things to do in this county to entertain every-aged member of your household. Jungle Gardens, Ringling Museum, Marie Selbie Botanical Gardens, Mote Marine Aquarium, and Siesta Key Beach are just a few of the area's attractions. Visit G Wiz Museum, Pelican Man Bird Sanctuary, St. Armand Circle, and Anna Marie Island. You won't want to miss the car museum, Myakka River State Park, the Opera House, and about a dozen other favorited local attractions.
If golf is your game, there are nearly three dozen private and public golf courses and clubs within Sarasota. There are also shops and boutiques, spas and salons, and a variety of restaurants and eateries to tickle your taste buds for weeks.
Sarasota County in Florida claims more than 35 miles of beaches for your household to enjoy, and Sarasota County's natural lands are being protected with a focus on conservation of their ecological, historical and cultural values.
When you're looking for the perfect place to settle in and call home, Sarasota County has much to offer. Soak in the Florida sun at the beach, visit its many parks and preserves, engage in a plethora of activities, enjoy a game of golf, spend a day at the shops, or just relax at home.
Interested in buying or selling a home in Sarasota County? Give us a call today at 941-564-9491.